Treasury Yield Curve Is Flattest Since 2007 on Rising Fed Bets
By and
U.S. two-year note yield closes at highest level since June 6

Odds of Fed move this year climb to 55% from 47% a week ago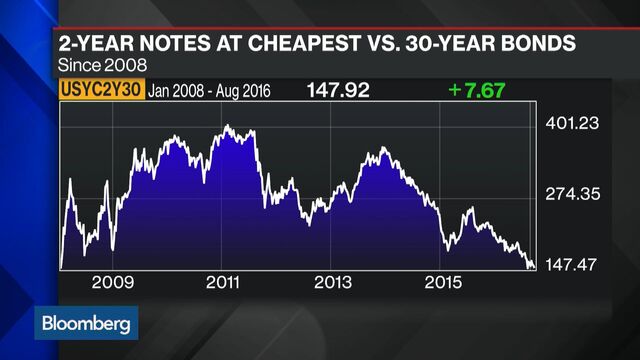 Treasury two-year notes are the cheapest relative to 30-year bonds since the end of 2007 as hawkish comments from Federal Reserve officials spur speculation the central bank will increase interest rates this year.
The yield on the shorter-maturity debt, which is more sensitive to the outlook for monetary policy, rose for a third day after Fed Bank of Kansas City President Esther George said labor-market gains and rising inflation should prompt higher interest rates. Chair Janet Yellen speaks Friday at an annual symposium in Jackson Hole, Wyoming.

Fed officials "are trying to jawbone up rates, especially inflation expectations," said George Goncalves, head of U.S. interest-rates research at Nomura Securities, one of 23 primary dealers that trade with the central bank. "Rates could move a little higher tomorrow. Not because of expectations of hikes, but more about 'hey, the Fed means business.'"
History suggests that a Fed rate increase benefits longer-maturity bonds more than their short-dated counterparts. Every time the Fed has raised rates over the past four decades, betting that longer-term Treasuries would outperform short-term notes has proved to be a winner, according to data compiled by Bloomberg. Higher rates helped stem inflation and keep economic growth from overheating.
The Treasury two-year note yield rose three basis points, or 0.03 percentage point, to 0.79 percent as of 5 p.m. in New York, according to Bloomberg Bond Trader data. That's the highest closing level since June 6. The price of the 0.75 percent security due in August 2018 was 99 29/32.
Yield Curve
The extra yield investors demand to hold 30-year bonds instead two-year notes contracted to about 147 basis points, making that measure of the yield curve the flattest on a closing-price basis since December 2007. Bob Michele, New York-based chief investment officer at JPMorgan Chase & Co.'s asset-management unit, which has $1.7 trillion under management, sees it flattening further.
"Every steepening of the curve will be met by buying," Michele said on Bloomberg Television. "We're going a whole lot flatter. I think we're going through 100."
The probability of a rate increase by September was 32 percent, compared with an 18 percent chance seen at the start of the month, according to data compiled by Bloomberg from fed fund futures. Traders see about a 57 percent chance of a move this year. The odds have risen after Vice Chairman Stanley Fischer joined the presidents of the New York and San Francisco branches in signaling a move in 2016 was still under consideration.
Treasury Auctions
Economic data on Thursday showed orders for U.S. business equipment climbed for a second month in July, the first back-to-back advance since early 2015. Steadier orders would mark an improvement in demand for capital spending that Fed policy makers have described as "soft."
A gauge of demand fell to the lowest since February at a $28 billion auction of seven-year notes Thursday. The decline in buyer interest comes after a $34 billion five-year debt sale Wednesday saw the greatest demand on record from indirect bidders, a class of investors that includes foreign central banks and mutual funds. Demand at a $26 billion two-year note auction on Aug. 23 was the highest since May.