Top Currency Strategy of 2016 Turns Perilous as Risks Rise
By , , and
Politics are interrupting rally in emerging-market currencies

Rand's quarterly carry-trade return has halved to 5%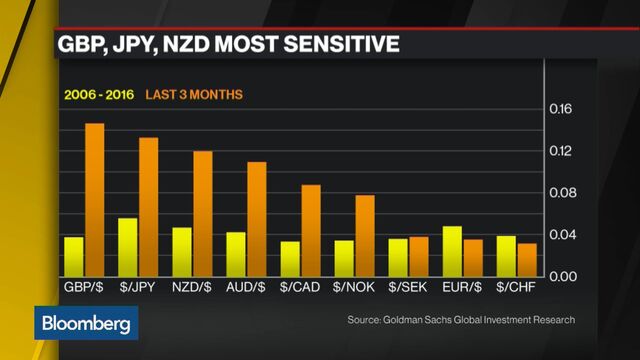 Currency traders basking in the relative calm of August markets just received a jarring reminder of the dangers of chasing high yields.
Recent flare-ups in political risk in emerging markets weakened their currencies and helped send returns on carry trades -- borrowing in locales with relatively low interest rates and investing the proceeds in places where they're higher -- tumbling from the highest in a year. Turmoil among South Africa's political leadership this week prompted such a drop in the rand against the dollar that it cut the return on this quarter's best carry trade in half.

Investors were already wary of adding to these strategies before Federal Reserve Chair Janet Yellen's address to the annual Jackson Hole conference on Friday. Her comments have the potential to deliver further pain to carry trades, whose world-beating returns have helped push an index of emerging-market currencies toward its first annual advance in four years.
"We're once again reminded that emerging-market currencies are a volatile asset and subject to big swings over a short period of time," said Steve Hooker, the Hartford-based managing director of Newfleet Asset Management LLC, which oversees $11.5 billion. "Political risk is something you can never exclude when you deal with EM. The rally in developing currencies is at risk."
Newfleet has cut its exposure to emerging-market currencies to the "lower end" of its usual range of zero to 10 percent of its holdings, Hooker said. He cited the potential for the Fed to raise rates this year, the prospect of which has risen above 50 percent in the futures market following a string of hawkish comments from policy makers.
Carry Returns
A UBS Group AG index of carry trades has fallen more than 2 percent since reaching the highest in a year on Aug. 10. Deutsche Bank AG indexes show that, using Group-of-10 currencies, the trade has risen 5.3 percent this year, beating the strategies of buying and selling based on relative value and following trends.
Repelled by negative interest rates and bond yields from the euro region to Japan, money managers are plowing increasing amounts into developing economies, with emerging-market exchange-traded funds attracting more than $18.5 billion in a record 12-week winning streak.
Yet currency volatility is rising from the lowest in a year, potentially swallowing up the yield difference carry traders profit from. A JPMorgan Chase & Co. gauge of price swings in emerging-market currencies climbed to an almost two-month high of 10.2 percent.
Reassess Exposure
The more than 4 percent drop in South Africa's currency on Tuesday and Wednesday, as a feud between President Jacob Zuma and Finance Minister Pravin Gordhan intensified, halved the return investors got this quarter from selling dollars to buy rand to 5 percent, according to data compiled by Bloomberg. The rand fell further today.
"This is a wake-up call after South Africa rallied so much in the past month," said Peter Kisler, who runs an emerging-market fund at North Asset Management LLP in London, and has bet against rand-denominated bonds. "You could see people starting to reassess their exposure to emerging markets in September."
The escalation of political tension in South Africa on Tuesday was followed by S&P Global Ratings' downgrade of Mexico's credit outlook to negative, citing "disappointing" economic growth and a rising debt load. The news prompted the peso to extend losses.
Missiles and Coups
South Korea's won led Asian currencies lower on Wednesday after North Korea launched a ballistic missile test. In Brazil, suspended President Dilma Rousseff is facing an impeachment trial expected to begin this week and wrap up this month, adding uncertainty to the world's best-performing currency of 2016. Investors in Turkey have in the last month been whipsawed by an attempted coup, a subsequent political crackdown and a potential downgrade from Moody's Investors Service.
"Carry trades work until they don't," said Win Thin, an emerging-market strategist at Brown, Brothers Harriman & Co. in New York. "A purely liquidity-driven rally is not going to last."