There's Basically No Alternative to U.S. Corporate Bonds Right Now
U.S. corporate credit is on the global map.
By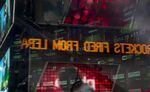 The foreign hunt for yield in U.S. markets is stepping up as central banks in Europe increasingly crowd out investors from their domestic credit markets.
Higher policy rates in the U.S. have reeled in heavy private-sector foreign flows into U.S. corporate bonds this year. And this trend is poised to intensify as valuations in European credit markets become more stretched, while declining returns from currency-hedged investments in Treasuries push portfolio managers into the higher-yielding U.S. corporate credit market, say analysts. 
Take the case of the U.K.
In the wake of the Bank of England's decision to follow the European Central Bank's decision to buy corporate bonds in a bid to keep the U.K. economy afloat, returns in the sterling investment-grade corporate bond market have never been this meager.
After hitting an all-time low of 2.120 percent on 10 August, the yield on the Bank of America Merrill Lynch Sterling Corporate Index is trading at 2.190 percent compared with 3.70 percent in mid-February.

Meanwhile, the 10-year gilt is yielding a paltry 0.566 percent after hitting as low as 0.518 percent earlier in the month. As a result, the investment case for both U.K. government and high-grade corporate bonds has reached the breaking point.
Ben Lord, portfolio manager at M&G Limited, explained the math in a blog post — entitled 'The BoE and ECB render the US bond market the only game in town' — on Tuesday.
In short, the relative appeal of buying either U.K. government or corporate bonds compared with simply putting money in cash — known as the breakeven-yield number — is at an all-time low, he says, which boosts the allure of U.S. corporate bonds for yield.
To get this breakeven number, one divides the U.K. government yield, or in the case of corporate bonds, the credit spread, by the duration. After applying an average credit spread for sterling investment-grade credit at 200 basis point, and an average duration of 10 years for the asset class, an investor can tolerate spread widening of just 20 basis points before they will conclude that they would have been better off in cash, he calculates.
In yield terms, there's also little room for comfort. If one combines breakeven figures for government and corporate bonds, yields would need to rise by just 26 basis points before an investor in an average investment-grade U.K. corporate bond concludes that "they should have been in cash", he says.

While there are still rational reasons for some investors to grab government bonds even if returns are negative, historically-low corporate bond yield breakevens in the U.K. will redouble domestic investor efforts to increase their U.S. corporate exposure, he says.
With the Bank of England buying gilts and soon to start buying corporate bonds, with the aim of loosening financial conditions and providing a stimulus to the economy as we work through the uncertain Brexit process and outcome, low corporate bond breakevens are to be expected. But with Treasury yields at extreme high levels out of gilts, and with the Fed not buying government bonds or corporate bonds at the moment, my focus is firmly on the attractive relative valuation of the US corporate bond market.
Suki Mann, a former head of credit strategy at UBS AG, and now independent strategist at Credit Market Daily, agrees: "With U.K. spreads at or around record tight levels, breakevens have crunched lower. That's a major concern if corporate spreads wobble given that we won't need to see much widening to sit on any losses from a break-even perspective." 
Low corporate breakeven yields are also bedeviling euro investors. 
The average-weighted yield of the U.S. investment grade market is 2.76 percent, according to Bank of America Corp indexes, with a duration of seven years. That compares with just 0.62 percent in the euro market, albeit with a lower duration of five years. Mann adds: "There is a clear crowding impact from the ECB involvement in the corporate bond market too. As yields crunch lower, investors move down the credit curve in their search for higher returns. Alternatively, there is the US market and those who can buy dollar denominated corporate debt will be looking at it. "
But, here's the kicker: there are now fewer places in the U.S to dodge the low-carry bullet — meaning that, from the perspective of foreigners, U.S. corporate credit is the highest-yielding, most liquid market in the developed world. In short, foreign investors are now less inclined to grab U.S. Treasuries as the currency-adjusted returns have effectively vanished.
While the rate differential between the U.S. and major advanced economies has stayed broadly stable in recent months, the cost of using short-dated forwards to eliminate the FX risk associated with buying long-dated Treasuries for foreign investors has risen. These charts from George Saravelos, strategist at Deutsche Bank AG., in a research report this week tell the story. 

The rising cost of hedging dollar exposures mean that for some investors, especially Japanese, the euro market has become more attractive to grab yield for those who chose to fully hedge their exposures until bond maturity.
But since most investors only partially hedge their portfolios, the dollar market remains attractive. More generally, the increasing dollar-hedging costs actually reinforce the allure of higher-yielding U.S. corporate bonds since returns from the latter offset any partial FX-hedging premia, reckons Wells Fargo LLC.  
Nathaniel Rosenbaum, credit strategist at the bank, notes foreign investors have increased their ownership of the U.S. corporate debt stock by around 5 percentage points over the past year to 40 percent, with Europe representing 80 percent of the foreign investor base. U.S. corporate bonds offer significant yield-pick in a return-starved Europe, and, as such,  foreign flows into the U.S. will continue their frenzied pace, he says:
While dollar corporate yields are not far from all-time lows and spreads are relatively tight from a U.S. domestic investor's perspective, the exact opposite is true from the perspective of most foreign investors: Dollar yields are cheap to most major alternatives such as yen and euro credit. Sterling credit is now well on its way to joining that list as well with the BoE set to start buying corporate bonds in September. This increasingly leaves dollar credit as the only viable and liquid alternative for incremental yield pickup, and that notion remains valid despite the increasing costs to hedge FX risk.
At this rate, given the yield differentials, foreigners could even own half of the U.S. corporate bond market in the coming years, Wells Fargo predicts. While Asian central banks and sovereign wealth funds have sold off a portion of their U.S. Treasury holdings, including corporate bonds, over the past year to shore up their finances, the next wave of foreign demand could come from emerging markets' re-allocating some of their U.S. Treasury holdings to U.S. corporates, the bank suggests.
U.S. policy makers, investors and market structure will need to adapt to a new world where foreign investors exert a powerful influence in the world's largest credit market, the strategist concludes.