Thanks to Trump, Georgia Could Be Ripe for a Clinton Win
Rising numbers of minority and young urban voters have helped put a longtime Southern Republican stronghold up for grabs.
By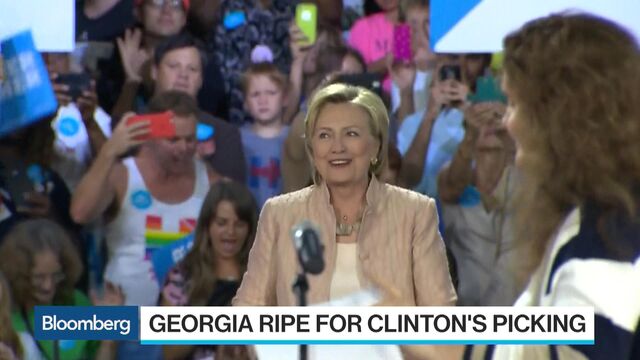 On Sunday, Aug. 21, Hillary Clinton's campaign opened its Georgia headquarters in Atlanta. About 300 Democrats showed up at a yellow house in the city's hip Castleberry Hill, a neighborhood of converted factories next to the rising framework of a new Falcons NFL stadium. The crowd took selfies under Clinton's portrait in the entryway, near a poster emblazoned with Twitter hashtags such as #GAinplay. The guest of honor was actor Tony Goldwyn, who plays a philandering president in the ABC series Scandal.
If the event had the feeling of being improvised at the last minute, there's a reason for that. A week earlier it wasn't even listed on the Clinton campaign's schedule. But as polls have shown her pulling even in Georgia with Donald Trump over the past month, Clinton has decided to give it a go, pouring money and staff into a state that hasn't voted for a Democrat in a presidential election since her husband won in 1992.
Ever since Barack Obama came within 6 percentage points of beating John McCain in Georgia in 2008, the state's Democrats have pointed to a wave of minority, young, and transplanted voters as proof that their deeply Republican state was on the cusp of turning blue, or at least purple. Although whites now make up 58 percent of active voters in Georgia, down from 72 percent in 2002, the demographic shift remains a slow process, and Democrats have yet to capitalize on it in a statewide race. Obama lost ground in Georgia in 2012, and Michelle Nunn, the daughter of a popular former Democratic senator, got close but ultimately lost her bid to win a U.S. Senate seat in 2014.
But this year, Democrats may have a secret weapon in Trump, whose campaign appears to be accelerating an electoral change in Georgia that many political pros thought was still a few years away. "My view is that Georgia is probably in play, which I have never said before," says Stuart Rothenberg, founder of the Rothenberg & Gonzales Political Report. "It's entirely due to Trump."
Trump has alienated the kind of middle-class suburban Republicans who turned out in force for Mitt Romney and McCain, more than offsetting his appeal to rural, working-class whites. He may now have to compete for Southern conservative voters who should have been a given. Even if Clinton doesn't win Georgia, the mere fact that it's competitive may force Trump to spend money there that he wouldn't have otherwise, says Brad Coker, managing director at Mason-Dixon Polling & Research.
Georgia still looks solidly red from the outside. Republicans enjoy a strong majority in the state legislature, and they've controlled the governor's mansion since the 2002 election. As white politicians switched parties to improve their chances of staying in power, the Democratic Party in Georgia increasingly became the province of minority groups and the urban young, both of which are outnumbered.
In a way, Georgia became a presidential no man's land, useful only as an ATM: Candidates of both parties flew into Atlanta to raise money and flew back out to spend it elsewhere, not willing to waste a dime campaigning in a state Republicans could take for granted and Democrats couldn't win.
Recently, as the demographics started to turn, state Democrats have tried to convince national party officials that Georgia is worth fighting for. Atlanta Mayor Kasim Reed remembers taking a limo ride in 2012 with President Obama and his campaign adviser David Plouffe, who were in town for a fly-in, fly-out fundraiser. Reed urged Obama to invest in Georgia as he had successfully done in 2008 in North Carolina. "I was just making the case that we should compete for Georgia," Reed says. "We were raising money in Georgia. We were sending people from Georgia to other places." The answer from Plouffe: Georgia wasn't competitive yet.
The Clinton campaign won't say how much it's spending in Georgia, but state Democrats are happy for the national presence. Even before the Clinton campaign told state party leaders in early August that it planned to compete in Georgia, the state party was boosting its own investment, opening eight offices across the state for the first time in recent memory and "spreading out into places where they are not used to seeing Democrats," says spokesman Michael Smith.
If Clinton wants to win, she'll have to do a better job of leveraging Georgia's changing demographics, something Democrats have had more success with in state legislative races. Since 2012, Democrats have flipped five Georgia state House seats, despite a Republican redistricting that year. Rather than focusing on likely voters, Democrats are shifting tactics to persuade minorities to go to the polls for the first time.
That's something Brenda Lopez did this spring to win the Democratic primary for a state House seat in what used to be the Republican stronghold of Gwinnett County, northeast of Atlanta. Asians and Hispanics now make up more than half the district's population, but they account for only 8 percent of its electorate. Of 1,040 registered Asian-Americans in Gwinnett's 99th district, only 10 voted in the presidential primary earlier this year. Of 1,506 Latinos registered, 7 voted. "People say these are low-propensity voters, and I correct them: These are no-propensity voters," says Lopez, who repeatedly visited first-time voters and will now run without a Republican challenger in November. "You can't just have the demographic change. You have to do the outreach to bring them in."
Across Atlanta from Lopez's district, organizers for Democratic House member Taylor Bennett were already canvassing last weekend and promising four or five visits per voter by November, says organizer Evan Gillon: "They'll be sick of us by the end."
Before it's here, it's on the Bloomberg Terminal.
LEARN MORE