Spanish Economy Beats Growth Estimate Despite Deadlock
by
Output grew 0.8 percent in second quarter, beating estimate

Mariano Rajoy to face confidence vote in parliament on Aug. 31
The Spanish economy overcame the country's political impasse to grow more than initially estimated in the second quarter, led by a pickup in investment and exports.
Gross domestic product grew 0.8 percent compared with a provisional reading of 0.7 percent,  the Madrid-based National Statistics Office said Thursday. From a year earlier, the economy expanded 3.2 percent, while adding about 484,000 new jobs.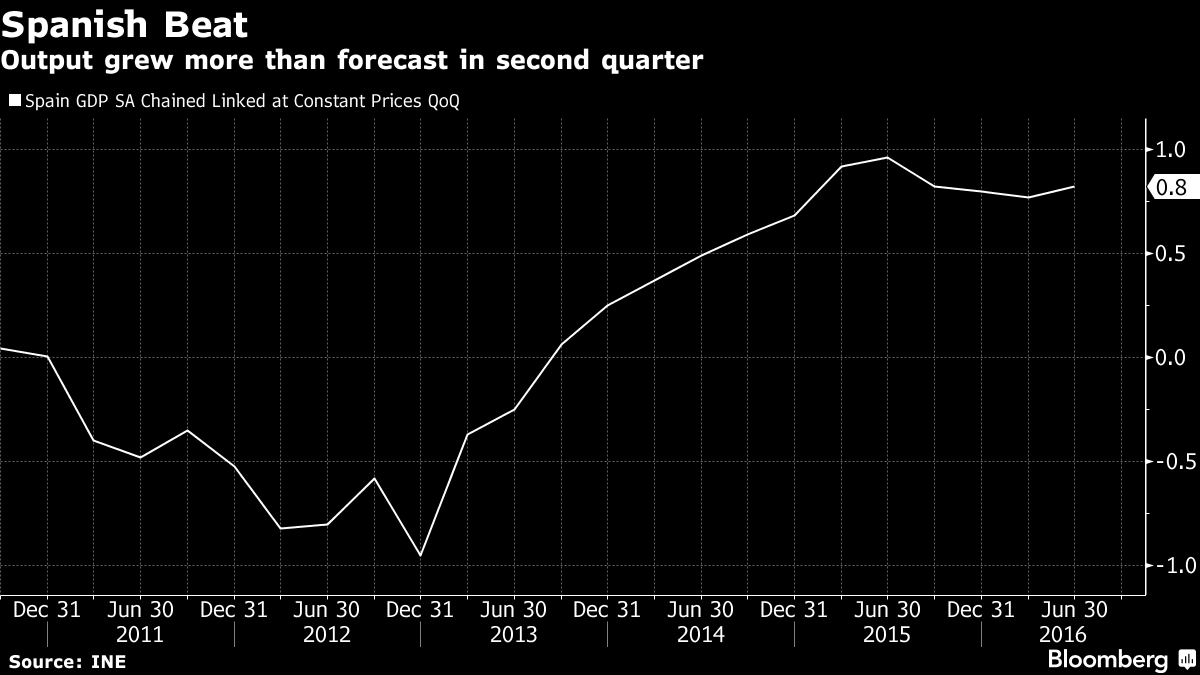 Investment rose 1.3 percent in the quarter and construction gained 0.9 percent, the statistics office said. Exports jumped 4.3 percent. Household consumption remained strong, helping to offset subdued government spending as the nation grapples with political deadlock after two inconclusive elections that left caretaker Prime Minister Mariano Rajoy unable to form a government.
"Exports were a big surprise here," said Yvan Mamalet, senior euro area economist at Societe Generale SA in London. "Net trade contributed to growth quite substantially along with investment, which was surprisingly strong."
Confidence Vote
The data come as Rajoy prepares to face a confidence vote on Aug. 31 in his bid for a second term in office. While his People's Party has struck a preliminary agreement with the Liberals of Ciudadanos, the Socialist party refuses to endorse him. Without its backing, even in the form of an abstention, he's likely to lose the vote and put the nation on track for a third election in a year.
Spain could also miss a September deadline to draft a budget for 2017 that should be submitted to officials in Brussels by October if there's no government in place. After dodging a fine for missing its deficit goal last year, Acting Economy Minister Luis de Guindos said Spain is fully committed to narrowing its budgetary shortfall to below 3 percent of GDP by 2018 as agreed with European authorities.
The Rajoy administration sees the economy growing 2.9 percent this year before slowing to 2.3 percent in 2017.
Before it's here, it's on the Bloomberg Terminal.
LEARN MORE