Singapore Charges Three Men in First Front-Running Case
By
Case is second joint case by regulator and white-collar police

Men face 333 charges in total for offenses from 2007 to 2014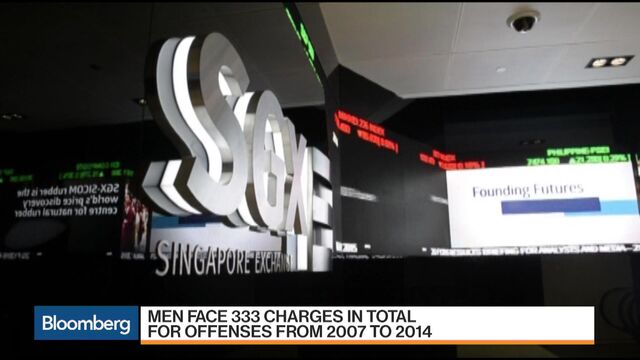 Singapore has charged three men with insider trading in the city's first front-running case.
The men were hit with a total of 333 charges for offenses allegedly committed from April 2007 to May 2014, according to charge sheets filed Thursday by the Monetary Authority of Singapore and the police. Front running is the practice of buying or selling a security using advance knowledge of pending orders to wrongfully benefit from the trade.
The men, who were traders at the time of the alleged offenses, traded in 100 stocks including DBS Group Holdings Ltd., Samsung Electronics Co. and Newcrest Mining Ltd., according to the charges.
It's the second case brought by the regulator and the Commercial Affairs Department, the police's white-collar crime unit, since they banded together in March 2015 to probe market misconduct. In the first case, a Malaysian investor was charged last month with spoofing.
Singapore is making a greater effort to protect its image as a financial center. The regulator has vowed stronger action following the damage to its reputation by lapses at banks in the city linked to a troubled Malaysian state investment fund. It recently raised the maximum fine for insider trading under its civil penalty regime.
In May, prosecutors charged two men with insider trading offenses on two stocks before the companies received takeover offers. In an unrelated move in April, authorities raided several brokerages after the stock exchange reported cases related to alleged insider trading and market manipulation.
A penny-stock rout in October 2013 led to Singapore's largest securities-fraud investigation. Three companies suffered an unexplained free-fall that wiped out S$8 billion ($5.9 billion) over three trading days. The stocks had surged by as much as 1,000 percent over the preceding nine months.