Shadow Rate Shows Kuroda Falling Behind ECB in Policy Impact
By and
Japan's policy 'has eased by less and more slowly': Krippner

BOJ easing has not fed into real economy, says Bank of America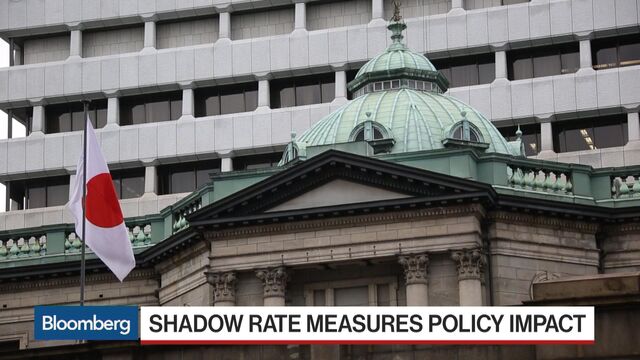 As Bank of Japan officials prepare to review the effectiveness of more than three years of unprecedented stimulus next month, at least one gauge suggests they are losing clout.
The so-called shadow rate, which takes into account sovereign bond yields to measure the impact of unconventional policy tools like quantitative easing, hasn't fallen as rapidly as that in Europe, according to a model created by Reserve Bank of New Zealand researcher Leo Krippner. While Krippner says the introduction of negative policy rates and Japan's flat yield curve has made it harder to calculate, the measure suggests Governor Haruhiko Kuroda is falling behind European Central Bank peer Mario Draghi in efforts to do whatever it takes to boost growth and stoke inflation.

"For Japan, the shadow rate indicates that monetary policy has eased by less and more slowly," Krippner said in an e-mail interview. "That's consistent with Japan adopting easing measures, such as quantitative-and-qualitative easing and its subsequent additions, but not yet generating the 2 percent inflation target announced on the outset of the policy."
Comprehensive Review
The BOJ acknowledged doubts over its policies when it took the unprecedented step last month of announcing a comprehensive review for its Sept. 20-21 gathering. The economy has only grown half of the time since Kuroda launched his stimulus in April 2013, and consumer prices have fallen for five straight months to July. While benchmark yields tumbled to a record low of minus 0.3 percent last month, they have since retraced two thirds of that. The yen is another headwind, outperforming all its developed-market peers this year.
Krippner said that shadow rates are estimated from yield curve data, indicating the degree to which medium- and longer-term rates are lower than would otherwise be expected with a near-zero policy setting. He said Japan's "very flat yield curve" makes estimation more difficult and could be responsible for the less negative readings. At the same time, he says the trend in the gauge provides the most reliable indication of the effectiveness of such easing, and his methodology allows for comparison of shadow rates across countries.
'Sufficient Chance'
Kuroda told the Sankei newspaper there is "sufficient chance" of additional easing at next month's meeting, and officials won't hesitate to act if necessary. He said there is technically room to cut the negative deposit rate from the current minus 0.1 percent.
For more about the BOJ's comprehensive policy review, click here.
One closely watched measure of inflation fell 0.5 percent in July, the most since March 2013, the month before Kuroda launched his stimulus. The yen has strengthened about 20 percent this year to 100.46 to the greenback as of 9:28 a.m. in London Friday.
"The BOJ has eased a lot, and the market is flooded with money -- but it's a dead end, because it's not feeding into the real economy," said Shuichi Ohsaki, the chief rates strategist at Bank of America Merrill Lynch in Tokyo. "Ideally, they'll use the September review to admit they've made a mistake with policy, but that's not realistic."
ECB Comparison
Japan's shadow rate of minus 4.65 percent compares with minus 6.64 percent in the euro area, according to Krippner's model. The ECB currently sees consumer-price growth accelerating to an average of 0.6 percent in the fourth quarter, from 0.2 percent last month. Its policy board next meets Sept. 8.
The BOJ's introduction of a negative rate this year sent financial stocks tumbling, and spurred a rush among the general populace to store more money at home. Some market watchers have expressed concern that the monetary authority's bond-purchase program was unsustainable since its inception.
"Influencing interest rates is not necessarily the only option available," RBNZ's Krippner said. "The Bank of Japan could choose to promote easier monetary conditions by purchasing other assets, like it's doing with its exchange-traded fund and REIT programs. That wouldn't necessarily show up in the shadow rate."
Watch Next: Has the BOJ Run out of Ammunition?