Russia Sees Turkey Thaw Aiding Syria Deal as Lavrov, Kerry Meet
By
Russia welcomes Turkey-Iran contacts, Foreign Ministry says

Assad exit can't be pre-condition for deal, Zakharova says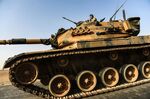 Russia says a warming of its relations with Turkey may boost the search for peace in Syria as Foreign Minister Sergei Lavrov and U.S. Secretary of State John Kerry hold talks in Geneva Friday on the conflict that's killed more than 280,000 people.
"It's a very important moment," Maria Zakharova, the Foreign Ministry's spokeswoman, said in an interview in Moscow Thursday before leaving with Lavrov for the talks. Turkey "is showing its interest in both the military and political sphere" in resolving the Syrian conflict and "when there's a constructive dialogue then of course it always helps the situation to develop in a positive way. It's a step in the right direction."
Russia welcomes contact between Turkey, which has been a major backer of rebel groups fighting Syrian President Bashar al-Assad's regime, and his ally Iran as a "constructive contribution" to resolving the five 1/2-year-long war, Zakharova said. "If we communicate with Turkey and Iran, why shouldn't Turkey and Iran talk to each other? Many in Washington don't like it, but it's an important element" in diplomatic discussions, she said.
Lavrov and Kerry are meeting as Turkey carries out its biggest military operation in Syria, seeking to drive Islamic State militants away from its border and deter advances by Kurds allied with Turkish separatists. Jets pounded Islamic State positions and tanks crossed the border this week, allowing the Turkish-backed Free Syrian Army to gain control of the strategic town of Jarablus, state-run Anadolu news service reported Wednesday.
Turkey, Iran
A softening in Turkey's insistence on Assad's departure in any settlement of the war has narrowed differences with Russia, which has conducted air strikes in support of the Syrian leader since September. Turkey has also reached out to Iran, Assad's other main supporter.
Iranian Foreign Minister Mohammad Javad Zarif visited Ankara a few days after Turkish leader Recep Tayyip Erdogan held talks with President Vladimir Putin in St. Petersburg this month to repair relations that had been plunged into crisis when Turkey shot down a Russian military jet near the border with Syria in November.
Russia "sees potential for it and Turkey and Iran to reach a compromise," said Irina Zvagelskaya, a senior fellow at the Russian Academy of Sciences' Institute of Oriental Studies. "For Turkey, the only red line is the Kurds."
Lavrov and Kerry will discuss efforts to coordinate actions against terrorists in Syria at the talks in Geneva, Zakharova said. Russia and the U.S. have tried unsuccessfully so far to reach agreement on synchronizing air strikes against militants in Syria, a move that could revive efforts to end a war that's caused millions to flee to neighboring countries and Europe.
"If we consider the Syrian settlement to be important then this is key -- it's a cornerstone of what is happening there" because "we need to destroy the terrorists," Zakharova said. The U.S. targets "terrorists where there are no opposition members shielding them. Where they are being shielded under Washington's direction we have a problem."
A "terrorist center remains" in these areas of Syria and "no one can deal with it because so-called moderate opposition groups are there," Zakharova said.
The Turkish offensive aims to push Islamic State deeper into Syria and create a buffer zone against the Syrian Kurds if they attempt to move northward toward the border. It has produced a rare degree of unity between the U.S., Russia and Turkey, with a Russian Foreign Ministry official calling the action "timely," while the U.S. extended its cooperation.
Assad's Fate
The U.S.-backed Syrian Kurds have been seeking to link enclaves they control by seizing major villages and towns from Islamic State along the border with Turkey. That alarmed Ankara, which fears the campaign will encourage restive Kurds in its east.
Russia may have agreed not to object to a limited Turkish incursion into Syria in return for Turkey being more cooperative on a political settlement with Assad, according to Dmitri Trenin, head of the Carnegie Moscow Center.
Turkish Prime Minister Binali Yildirim said last week that a transition with Assad still in power is possible and he called the confrontation over the downed Russian warplane an "unnecessary crisis." Yildirim on Wednesday said Turkey will increase cooperation with Iran on Syria and fighting Turkish separatist Kurds.
Demands for Assad to step down are unacceptable and "there can't be any preconditions in fighting against terrorism," Zakharova said. The presidency "is an important key to maintaining a strong fight against terrorists on the ground" in Syria, she said.