Popularity Outweighs Bank Profit as Kenya Follows Erdogan
By , , and
Kenyatta unexpectedly signs law capping interest-rate charges

President seen bolstering position before elections in 2017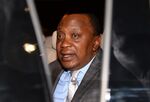 Kenyan President Uhuru Kenyatta is borrowing a page from Turkey's Recep Tayyip Erdogan in a quest to boost his popularity before elections next year by picking a fight with his country's banks.
Both leaders had for years been trying to lower borrowing costs. Erdogan succeeded earlier this month when he announced that he would view as an act of treason any resistance from the country's banks to lowering mortgage rates. Within 24 hours, most lenders complied, bolstering the 62-year-old's popularity.

Kenyatta, 54, on Wednesday surprised banks by signing into law a bill capping the interest rates lenders can charge and stating what they must pay on deposits, sending banking stocks plummeting. In assenting to the legislation, Kenyatta sided with Kenyans frustrated by the cost of credit and low rates on savings, while criticizing the profitability of the nation's banks that exceed levels in South Africa and Nigeria, the continent's largest economies.
"Politics has taken a front seat," said Ahmed Salim, a senior associate at Teneo Intelligence in Dubai. "He wants to be seen as listening to the will of the people. He will end the year in a formidable position while the impact on the economy may only begin to be felt from the first quarter of 2017" in terms of slower growth, he said.
'No Option'
Kenyatta is taking a risk a year before he seeks a second term in presidential elections, especially if it stalls the $61 billion economy, which until now has been expanding at a faster pace than the sub-Saharan African average. It also comes when most Kenyans feel the country is headed in the wrong direction politically and economically, a survey conducted by Nairobi-based Infotrak Research and Consulting shows.
"Kenyatta really had no other option but to sign considering the bill had significant backing in parliament and the electorate," Salim said.
Lending could dry up if banks can't price loans according to the risks they are taking, and the move may also curb investment in the country, seen as a regional hub for companies looking to do business in East Africa, said Kato Mukuru, head of equity research at London-based Exotix Partners LLP.
'Borderline Recklessness'
"This is borderline recklessness, a political activity that puts a lot of pressure on banks," he said.
The threats facing lenders were reflected in the stock market for a second day on Friday, as banking shares tanked. Kenyan lenders' annual profit fell 6 percent to 95.3 billion shillings ($940 million) in 2015, according to the central bank, as expenses grew faster than income.

KCB Group Ltd., the nation's largest bank by assets, dropped the most since August 2003 on Friday, albeit on low volumes. Equity Group Holdings Ltd., the biggest lender by market value, posted the biggest one-day decrease since April 2009, while Co-operative Bank of Kenya Ltd. marked the biggest two-day decline on record to fall to a 2012-low.
"There will be an impact on revenues in the short-term," said Arno Daehnke, chief financial officer of Standard Bank Group Ltd., which operates Stanbic Bank Kenya. "There is also the risk of emergence of unregulated lending schemes."
M&A Activity
With more than 40 banks, Kenya's market has been due for consolidation and the caps may give the impetus needed to speed along this process, he said.
Mergers and acquisitions may include lenders such as KCB, Equity Bank, NIC Bank Ltd. and Commercial Bank of Africa Ltd., with smaller companies being targets for the larger groups, said Eric Munywoki, head of research at Nairobi-based Sterling Investment Bank. Lenders like Chase Bank Kenya Ltd., Prime Bank Ltd., Family Bank Ltd. and Jamii Bora Bank Ltd. may also find themselves involved, he said.
"Banking stocks are going to go down a lot further," Mukuru of Exotix said. "There will be job losses because banks will have to shrink their costs. The central bank governor has been overshadowed by politicians, we expect the governor to push hard to get this reversed."
High Profit
While opposed to capping costs because it will harm the economy, central bank Governor Patrick Njoroge has said lenders are charging "remarkably high" rates. Treasury Secretary Henry Rotich said last week that lenders make "too much" profit from interest charges.
KCB had a return on equity of 25 percent in 2015 and Equity Group an ROE of 25.46 percent, compared with average ratios of 19.4 percent for South African lenders and 14.8 percent for some of Nigeria's biggest banks, according to data compiled by Bloomberg.
The law requires lenders to peg credit costs at 400 basis points above the benchmark central bank rate and pay depositors 70 percent of the central bank rate. Kenyan banks extended loans at a weighted average of 18 percent in June, according to central bank data. 
Seeking Clarification
That compares with a benchmark Central Bank Rate of 10.5 percent and a Kenya Banks' Reference Rate, used as a base lending rate by the industry, of 8.9 percent. 
In South Africa, interest rates on mortgages are limited to the benchmark rate, currently at 7 percent, plus another 12 percentage points a year. Erdogan, who tripled the size of Turkey's economy in a decade, called for mortgages to be lowered to 9 percent annually, from about 13.72 percent.
"It seems to me to be a short-term political decision," Jacko Maree, 60, who oversaw Standard Bank as chief executive for 13 years until March 2013, said in an interview in Nairobi. Speaking in his personal capacity, Maree said that while it may seem like a good idea that people can borrow more cheaply, banks will only lend if they can make margin.
"It's also very dangerous to distort exchange rates, interest rates in any country," he said. "There have been examples over the last 100 years that you can look at which will say 'this will not work, it will just not work."'
Lenders are still unsure what central bank rate will be used to determine interest charges or whether it will affect new or existing loans. The industry body is consulting the central bank for clarification, said Kenya Bankers Association Chief Executive Officer Habil Olaka.
"Kenyans had been led to believe that this is a silver bullet and all the borrowing costs are going to go down and there is going to be tons of credit available at this lower rate," said Aly-Khan Satchu, chief executive officer of Rich Management, a Nairobi-based adviser to companies and wealthy individuals. "Well, that is not how life plays out."
— With assistance by Helen Nyambura-Mwaura, and Renee Bonorchis
Before it's here, it's on the Bloomberg Terminal.
LEARN MORE