Pimco's Kiesel Sees U.K. Bank Credit as Bright Spot After Brexit
By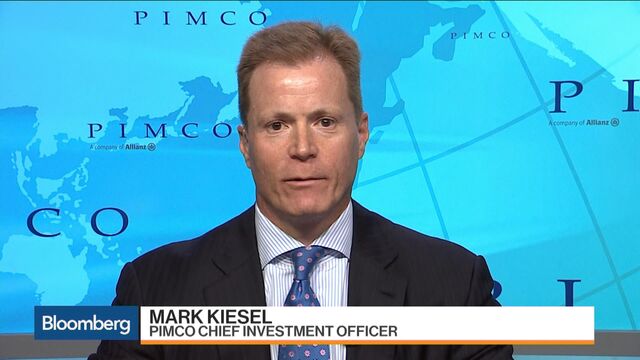 U.K. banks offer one of the few bright spots in European bond markets, according to Mark Kiesel at Pacific Investment Management Co.
While the U.K.'s vote in June to leave the European Union has put the country's economy at risk, the banking sector has almost doubled its capital in the past five to six years, Pimco's chief investment officer for global credit said in a television interview on Bloomberg TV on Thursday.
"With the Bank of England's liquidity support and likely lower interest rates, that banking sector is actually very attractive," Kiesel said.
The Bank of England announced this month that it plans to buy up to 10 billion pounds ($13.2 billion) of non-financial securities starting in September. Days after, yields on sterling debt plummeting to 2.12 percent, the lowest since at least 1997, according to Bank of America Merrill Lynch Index data. A similar bond-buying program by the European Central Bank has helped push yields on euro-denominated debt to a record low of 0.67 percentage point in August.
Kiesel also recommended U.S. credit, as low yields in Europe and Asia left non-financial bonds there without "much more upside." Even in the U.S., he said Pimco has been "very selective" in its buying as yields on both investment-grade and junk-rated corporate debt hover near one-year lows. He's said he sees the best bargains in U.S. debt issued by home-builders, health-care providers and consumer-oriented sectors such as gambling and lodging.
"Don't buy assets where central banks are subsidizing those bonds or prices," Kiesel said. The Federal Reserve "is not buying corporate bonds, so that's why the U.S. credit markets continue to look the most attractive."
Before it's here, it's on the Bloomberg Terminal.
LEARN MORE