Look Who's Coming to Private Equity's Defense on Fee Secrecy
Public pensions resist state bills seeking more disclosure.
By and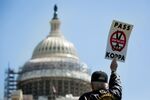 Private equity managers can't be trusted, and state and city pension officials, with $420 billion invested in the asset class, know it. The U.S. Securities and Exchange Commission told them so two years ago, when it reported that the majority of buyout fund managers were cheating investors with excessive and undisclosed fees. Since then the agency has repeatedly settled with funds it has accused of defrauding investors, including a $30 million settlement with KKR in June 2015; another for $39 million with Blackstone in October; and one for $52.7 million with Apollo Global Management on Aug. 23. (The firms didn't admit wrongdoing.)
Legislators in at least seven states have responded this year by introducing bills that would force the private equity industry to disclose more about how it operates. But those efforts now look likely to fall short, in part because of pushback from an unlikely source: the same public pension funds they were drafted to protect. In a handful of states, including New Jersey and Alabama, bills have already died. In Kentucky, a bill passed the Senate but failed in the House. Washington passed a bill in March that even enshrined the right of pension funds to keep details of their private equity investments secret. That leaves legislation actively in play in only two states: California, where a watered-down bill went to the governor on Aug. 24 for his possible signature, and Illinois, where a measure faces serious opposition.

"We all need results, and the best private equity firms will not want to do business with us if this legislation passed in Illinois," says Louis Kosiba, executive director of the Illinois Municipal Retirement Fund. Nationwide, cities and counties have only two-thirds of the assets they need to pay out the benefits they've promised to workers. With bond yields near historic lows, pensions have turned to alternative assets—including private equity, venture capital, and hedge funds—to make up the difference. Since 2006 public pensions have more than doubled their share of assets in private equity, according to the Pew Charitable Trusts. Historically, returns in this asset class have been among the highest going, and expectations that they'll come in at 10 percent or so relieves pressure on public officials to pour in dollars from taxpayers and workers.
The sense that pensions have nowhere else to turn lets private equity drive a hard bargain. Typically, the firms charge management fees of 1 percent to 2 percent, plus 20 percent of profits. They can also stick companies in their portfolios with "monitoring" charges that reduce the value of the pensions' investments. The all-in cost can run upwards of 3 percent—or 100 times what an institution might pay for an index fund. The pensions sign contracts that keep most of the numbers hidden from outsiders.
Investors are so strictly bound by secrecy provisions that even pension directors report being restricted from reviewing contracts their own investment staffs have signed. J.J. Jelincic, a board member of the California Public Employees' Retirement System (CalPERS), says it took his fund 10 days to approve his request to review investment documents. It was granted only when he agreed to take minimal notes and not talk to anyone about the contents.
"The terms of industry contracts are negotiated over months between sophisticated parties," says James Maloney, a spokesman for the American Investment Council, a private equity trade group in Washington. "The pension funds see everything. It's just not open to the public."
Many state pension funds have come out against the disclosure bills because they fear the legislation will reduce their investing options, with private equity firms electing to refuse their business rather than open up their contracts. In Illinois, Kosiba points to a letter his fund received from ICV Partners, a private equity shop with $440 million under management, warning that complying with a Freedom of Information Act request for fee data would violate an exemption for "trade secrets" and "may cause competitive harm." ICV declined to comment.
The Illinois bill remains on hold until after the November elections, giving the private equity industry a chance to shape the legislation. "It's always nice to be asked what you think might work," says Maura O'Hara, executive director of the Illinois Venture Capital Association. "The worst thing that could happen for our industry would be to have it be a big legislative and administrative burden complying with more than 50 different state standards."
In California, Assemblyman Ken Cooley this February introduced a bill that would require state pensions to fully account for how much their outside fund managers earn off them. The state is home to private equity's two largest public pension clients, CalPERS and the California State Teachers' Retirement System, or CalSTRS, which together have more than $42 billion invested. During hearings earlier this year, the funds' investment staffs each spoke highly of greater transparency—yet also warned of dire consequences. In June, CalSTRS's legislative affairs manager, Jocelyn Martinez-Wade, testified that if private equity funds "see the requirements in this bill become law and don't wish to comply with them, they may not want to contract with us anymore." That could cost CalSTRS up to $400 million in returns over time, its staff has estimated. Christopher Ailman, CalSTRS chief investment officer, offered to provide "actual examples" of funds that would kick the public pension out—but only behind closed doors.
Ultimately, CalPERS reportedly proposed industry-friendly amendments that were adopted in June. Among the changes: Private equity managers won't have to say how much they take out in fees from the companies they run for their many clients, but instead only the "pro rata" portion paid directly by California pensions.
The bottom line: At least seven states have considered bills to help pensions pierce the secrecy of private equity fees.
Before it's here, it's on the Bloomberg Terminal.
LEARN MORE