Photographer: Patrick T. Fallon/Bloomberg
Jobless Claims in U.S. Decline to Lowest Level in Five Weeks
By
The number of Americans filing applications for unemployment benefits fell to the lowest level in five weeks, another sign of endurance in the labor market.
Jobless claims dropped by 1,000 to 261,000 in the week ended Aug. 20, a report from the Labor Department showed on Thursday. The median forecast in a Bloomberg survey of economists was for 265,000.
Companies are retaining workers, particularly those with experience and skills, keeping claims close to four-decade lows and the jobless rate below 5 percent. Such durability, suggesting a labor market close to full employment, would be among forces that encourage Federal Reserve policy makers to raise interest rates by the end of the year.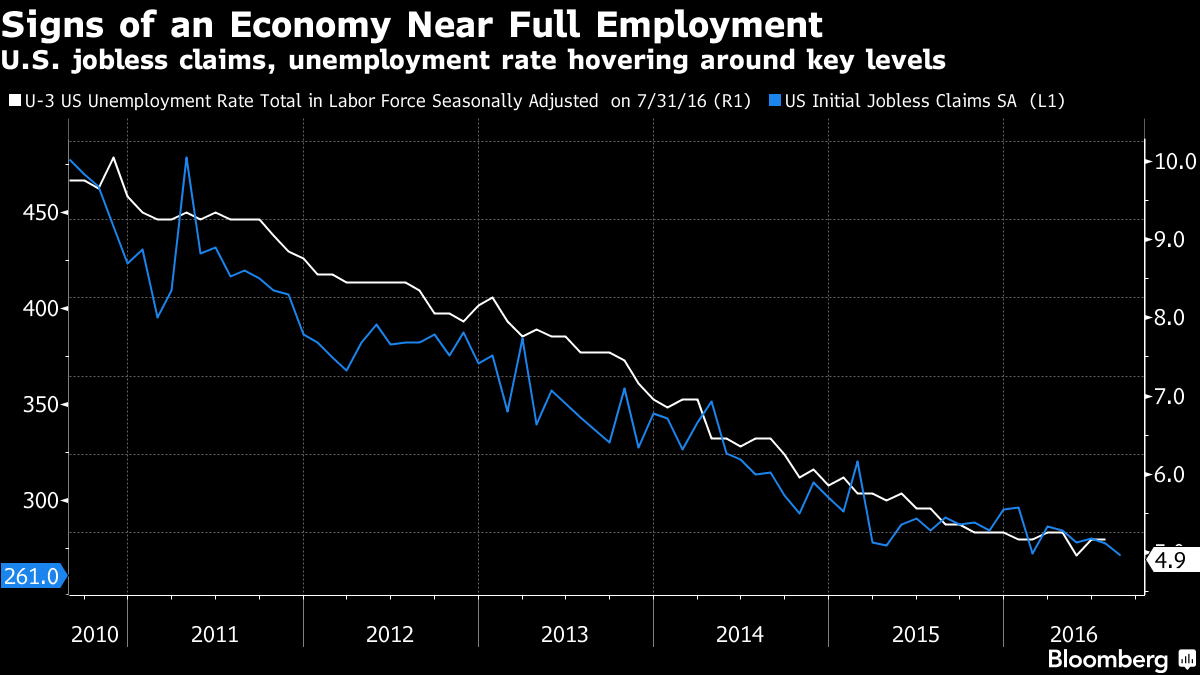 Estimates in the Bloomberg survey ranged from 255,000 to 280,000. The prior week's reading was unrevised at 262,000.
No states or U.S. territories estimated jobless claims last week, and there was nothing unusual in the figures, according to the Labor Department. Claims in Louisiana rose by 1,850 to 4,554, the biggest rise outside Michigan, amid recent flooding that forced thousands of people to relocate to shelters and hotels.
Long Stretch
Filings have been below 300,000 for 77 straight weeks, the longest stretch since 1970. That is typically consistent with an improving job market.
The number of people continuing to receive jobless benefits dropped by 30,000 to 2.145 million in the week ended Aug. 13, below the Bloomberg survey median forecast. The unemployment rate among people eligible for benefits held at 1.6 percent. These data are reported with a one-week lag.
Initial jobless claims reflect weekly firings, and a sustained low level of applications has typically coincided with faster job gains. Many layoffs may also reflect company- or industry-specific causes, such as cost-cutting or business restructuring, rather than underlying labor market trends.
Investors are looking to indications of the health of the world's biggest economy for clues on the possible trajectory of interest rates. Some Fed officials indicated rates could rise as early as next month, and the odds of an increase in September have climbed to 28 percent from 10 percent a month ago, based on trading in federal funds futures.
Before it's here, it's on the Bloomberg Terminal.
LEARN MORE