Japan's CPI Falls for 5th Month, Raising Pressure on Kuroda
By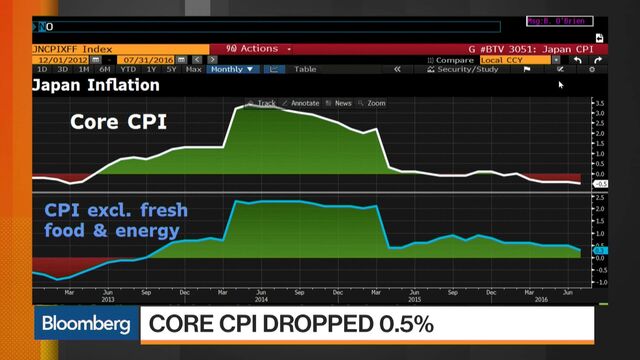 Consumer prices in Japan fell for a fifth straight month, underscoring the central bank's struggle to spur inflation to its 2 percent target. Friday's figures are the last reading on this key measure before Governor Haruhiko Kuroda and his board consider a possible policy revamp at their next meeting on Sept. 20-21.
Key Points
Consumer prices excluding fresh food, the Bank of Japan's core gauge, dropped 0.5 percent in July from a year earlier (estimate -0.4 percent).
Decline was the biggest since March 2013, the same month Kuroda became BOJ governor.
Consumer prices overall slipped 0.4 percent (estimate -0.4 percent).
Consumer prices excluding food and energy rose 0.3 percent (estimate +0.4 percent).
Big Picture
After more than three years of unprecedented monetary stimulus, the BOJ is no closer to its price target and investors are asking whether the central bank is running up against the limits of its effectiveness. Kuroda has ordered a comprehensive assessment of policy that may result in further monetary easing, according to economists surveyed by Bloomberg. The yen's gains this year, weak exports and fragile consumer spending at home are adding to the BOJ's woes.
Economist Takeaways
"Given Kuroda has said he will act if the price target is in danger, today's data confirms he has to take action again," said Nobuyasu Atago, chief economist at Okasan Securities, previously head of the BOJ's price statistics division. "The strong yen is a big factor dragging on price growth and that is expected to continue."
"The problem for the BOJ is, the Bank of Japan has pretty much exhausted all of its monetary policy tools to reflate the economy," said Takuji Okubo, chief economist at Japan Macro Advisors.
The Details
The BOJ released an alternative index that excludes fresh food and energy later Friday. It showed prices rose 0.5 percent in July.
The yen has gained about 20 percent in 2016 against the dollar, reducing inflationary pressures from imports while hurting export-dependent companies.
This month's statistics reflect an adjustment in the base year for the price data to 2015, from 2010 previously.
The BOJ current forecast for when it expects to reach its 2 percent inflation target is sometime in fiscal year ending in March 2018.
Watch Next: The BOJ's Struggle to Reach its Inflation Target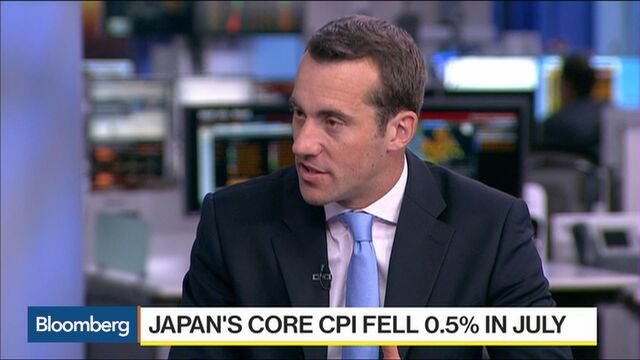 — With assistance by Connor Cislo
Before it's here, it's on the Bloomberg Terminal.
LEARN MORE