Is the U.S. Missing the TPP Train?
With congressional approval uncertain, Pacific nations consider a China option.
By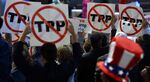 Steven Ciobo, Australia's minister for trade, tourism and investment, isn't sitting around waiting to see whether the U.S. will approve the Trans-Pacific Partnership.
Ciobo says he's "cautiously optimistic" the TPP, a 12-nation free-trade agreement signed in February, will squeak through Congress despite opposition from presidential nominees Donald Trump and Hillary Clinton. TPP faces plenty of opposition among voters and legislators in Australia. So for now he's focusing on other proposals, such as a regional deal with China, India, and other Asian countries that would exclude the U.S. Ciobo is also pushing ahead with a bilateral deal with Indonesia; and he hopes to start talks soon on an agreement with the European Union. He's had discussions with British international trade secretary Liam Fox about a post-Brexit deal with the U.K. "Free trade is good for everybody," says Ciobo. "It's crucial that we don't retreat to a protectionist policy."
Even as President Obama gears up to win approval of TPP during a lame-duck session after the November elections, TPP member countries are looking at Plan B in case the deal fails. The TPP will live or die based on what happens in Washington, since U.S. participation is essential for the agreement to succeed. "If the U.S. doesn't approve" the TPP, says Ciobo, "then it doesn't get up."
Renegotiation in search of a better deal that can win over critics in Washington isn't an option, says Deborah Elms, executive director of the Asian Trade Centre, an advisory firm in Singapore. She adds: "As soon as the U.S. starts to modify the agreement, the other 11 countries are going to say, 'We have things we would like to add.' Then it unravels."
In mid-August representatives from 14 Asian countries as well as Australia and New Zealand met in Vietnam for the latest round of talks on the Regional Comprehensive Economic Partnership, or RCEP, a proposed free-trade block that would be the world's largest. Until recently, the RCEP was a me-too effort by China, India, and other countries excluded from the U.S.-led TPP.
Now it may end up being the regional deal with the best chance of survival. RCEP "could serve as a good alternative to TPP," says Kaewkamol Pitakdumrongkit, assistant professor at the S. Rajaratnam School of International Studies at Singapore's Nanyang Technological University. While negotiators may not be able to wrap up a deal by yearend, she says, "the momentum is there."
Opposition to TPP is also rising in several countries besides the U.S. In Japan, farmers are upset about provisions to reduce tariffs on agricultural products. In Australia, quick approval is unlikely after Prime Minister Malcolm Turnbull's conservative coalition lost seats in July elections. "It's a bad deal," says Patricia Ranald of the Australia Fair Trade & Investment Network, an umbrella organization of churches, community groups, unions, and others opposed to the TPP. The government will have a difficult time winning over lawmakers, she says. "We don't even know if the U.S. itself will pass the legislation," says Ranald. "It would be foolish for the Australian government to rush into this."
There are some countries where TPP approval isn't in doubt. Among the dozen that have signed up for the deal, so far Malaysia has made the most progress toward ratifying it, with Parliament in January approving, by 127 to 84, a motion in support of the government's efforts to join TPP. Ratification is almost assured in Communist-ruled Vietnam.
Another reliable "yes" vote is Singapore, where the party of Prime Minister Lee Hsien Loong enjoys a big majority in Parliament. "Your partners, your friends who have come to the table and negotiated, each of them has overcome some domestic political objection, some costs to come to the table to make this deal," Lee said during a visit to the White House on Aug. 2. If the deal fails, "I think there are going to be people who are going to be very hurt, not just emotionally, but damaged for a long time to come."
Congressional rejection of Obama's trade pact would provide a boost to RCEP, which TPP boosters have dismissed as an inferior deal that wouldn't meet the needs of 21st century trade. The U.S.-led deal makes it easier for contractors to bid for government work abroad and increases protections for intellectual property, labor, and the environment, says Sanchita Basu Das, a fellow at ISEAS-Yusof Ishak Institute, a research center in Singapore. Moreover, while TPP aims for tariff reductions on at least 90 percent of products, she says, RCEP at best will affect 70 percent to 80 percent.
However, if the TPP has no future, then countries that had been counting on that agreement will instead push to make RCEP stronger. "They will double down on getting RCEP done and having a meaningful agreement," says the Asian Trade Centre's Elms. A TPP failure "really changes the dynamic of what happens in Asia."
It would also provide an opportunity for Chinese President Xi Jinping, who has struggled to overcome concerns among neighbors about China's territorial claims in the South China Sea, East China Sea, and the Himalayas. "China is using the RCEP to show they can drive international relations better than the Americans can," says Giovanni Di Lieto, lecturer and coordinator of teaching of international trade law at Monash University in Melbourne. "If the RCEP goes through and the TPP fails, it's a huge political message."
The bottom line: The failure of TPP would boost a rival free-trade deal that includes China and India but not the U.S.
Before it's here, it's on the Bloomberg Terminal.
LEARN MORE