Brazilian Stocks Rise as Reforms Optimism Outweigh Fed Concern
By
State-owned Petrobras contributes most to Ibovespa's gains

Senate starts trial to oust President Dilma Rousseff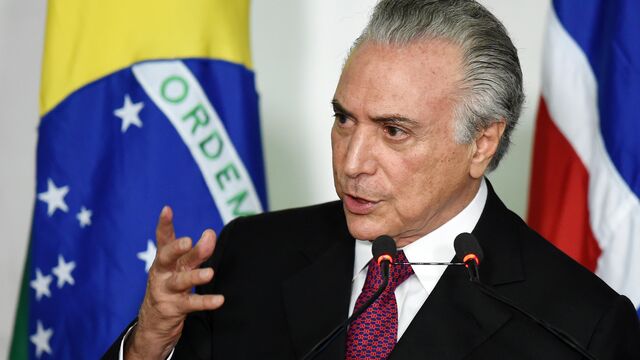 The Ibovespa rose from a two-week low as the approval of a budget bill fueled optimism that Acting President Michel Temer will be able to get support for measures aimed at restoring growth.
State-controlled oil producer Petroleo Brasileiro SA, known as Petrobras, contributed the most to the benchmark equity index's advance as the Senate begins the impeachment trial of suspended President Dilma Rousseff for allegedly mishandling the country's finances. During her administration, Latin America's largest economy lost its investment grade and plunged into its worst recession in a century.
After Brazilian stocks rallied 34 percent this year on speculation that a new government would be able to shore up the country's finances, reduce unemployment and put the economy back on track, investors are closely monitoring the impeachment proceedings to confirm that Rousseff's mandate will end. On Wednesday, the Senate approved a bill that frees up as much as 30 percent of the federal budget, giving the government greater discretion to spend where it sees fit.
"Brazil needs to turn this page," said Paulo Bilyk, the chief investment officer at Rio Bravo Investimentos in Sao Paulo. "The impeachment should go through, and we're very confident that the fiscal measures will pass, allowing the country to live again."
The Ibovespa added 0.3 percent to 57,873.34 at 3:30 p.m. in Sao Paulo as 29 of its 59 stocks advanced. Petrobras climbed 1.3 percent. Drug-store chain Raia Drogasil SA and foodmaker BRF SA were the best performers among companies that depend on domestic demand.
An advance in commodity prices Thursday also helped to lift the Ibovespa. Raw materials are the country's most important export, and producers have a 23 percent weighting on the Ibovespa. Steelmakers were among the biggest gainers Thursday, led by Usinas Siderurgicas de Minas Gerais SA.
Trading volume of stocks in Sao Paulo was 24 percent below the 30-day average for this time of the day as global investors awaited for a speech by the Federal Reserve Chair Janet Yellen on Friday to provide indications of the next steps of the monetary policy in the U.S. Major stocks gauges from Asia to America declined on concern interest rates in the world's biggest economy may be increased earlier that previously expected.