Style
How to Dress When an Invitation Says 'Cocktail Attire' in Summer
Here's everything you need for a cool cocktail party.
By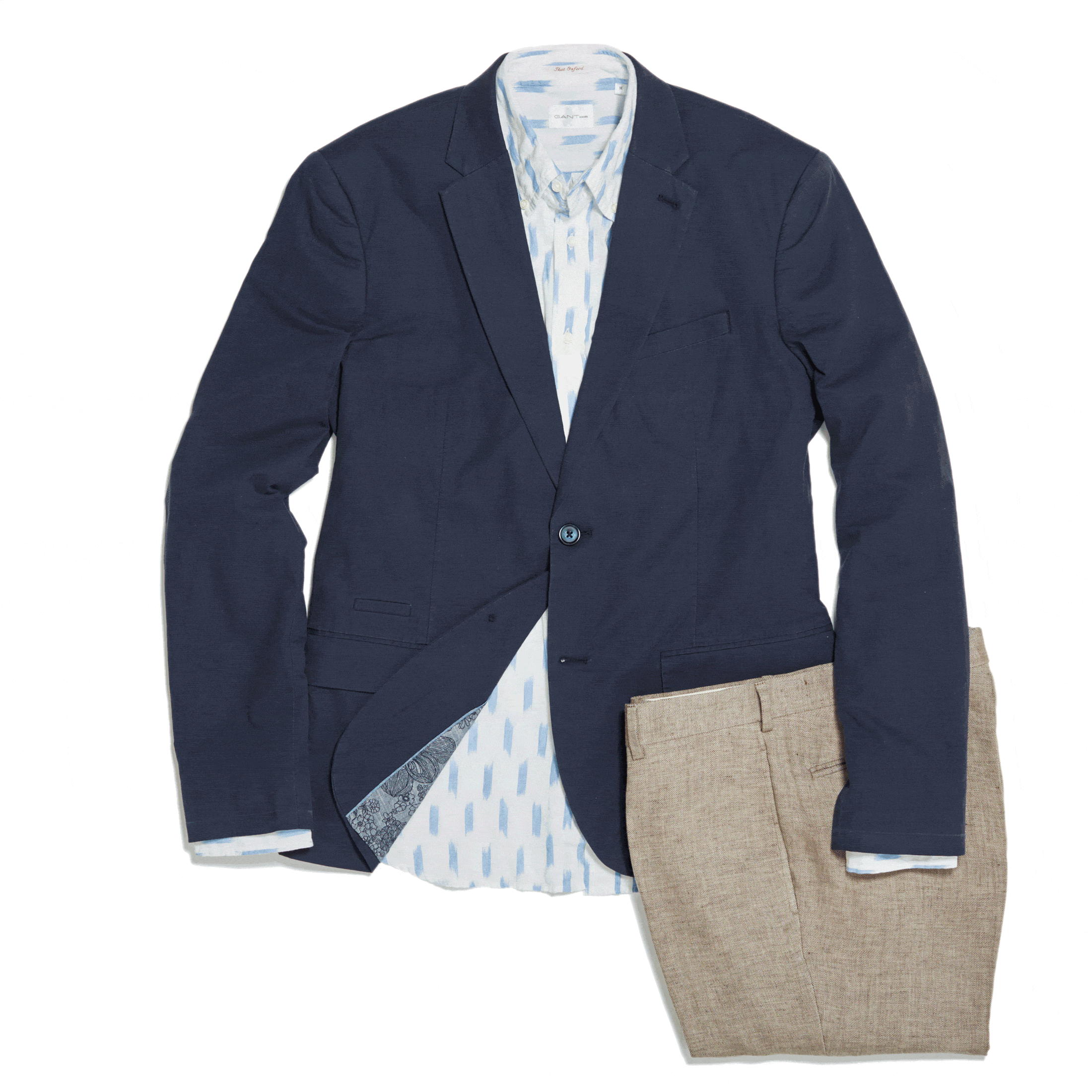 As we continue our summer style series, in which we suggest an article of clothing to build a weekend outfit around, we're taking on summer blazers. You might wear one of these to the office, even, but in general, light cotton or linen jackets are perfect for relaxing at outdoor social functions—especially as the Northern Hemisphere transitions to more tolerable temperatures. In fact, you may have received an invitation to a party that sounds a little formal, but where you will personally want to be relaxed. Call it the curse of "festive cocktail" attire.
Thankfully, a navy blazer doesn't have to be stifling. Here's your solution: 

Start with the fabric: A linen blend or lightweight cotton is perfect. This one from Original Penguin is made from a breathable cotton. Another thing to pay attention to is the construction of the jacket—skew toward an unconstructed format, because the absence of the lining will make the jacket look and feel much more casual. Plus, it will be more comfortable during the heat. ($250, originalpenguin.com)

These linen trousers are literally the opposite of a pair of jeans. They're light, cool, and breathable, and they're easy to move in while still looking more formal than denim. ($200, brooksbrothers.com)

Gant makes some of the best shirts for the workweek. For the weekend, opt for the brand's less traditional and more fashion-forward collection, Gant Rugger, which features fun patterns and prints like this tribal cotton button-down shirt. ($125, gant.com)

Dive watches are great for the weekend, because they look right (and make sense) with a bathing suit but are also formal enough for a cocktail party. This Cartier diver has a distinctive rubber strap that's handsome and rugged, too. ($7,900, cartier.us)

Wallets can say a lot about a person, even if you rarely see them. Is someone creative with his wallet, or not? A sporty, everyday leather wallet, like this one from Coach, says you pay attention to the details. ($195, coach.com)

A really easy way to dress down a blazer is by simply throwing on a pair of tennis sneakers, like these fancy ones from John Lobb ($670, johnlobb.com)

Don't wear the same sunglasses as everyone else, please. ($530, dior.com)

This messenger bag is perfect for any weekend around town. Carry your favorite summer reads and treats for a trip to the park. ($240, cambridgesatchel.com)
Before it's here, it's on the Bloomberg Terminal.
LEARN MORE