Foreign Traders Buy Korean Cosmetic Stocks Shunned by Locals
By
Overseas investors downplay impact of missile spat with China

AmorePacific, least loved by locals, is a foreigner favorite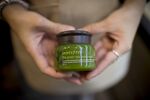 Foreign investors are loading up on South Korea's least-loved stocks, betting that a missile spat with China won't dent tourist sales at the country's cosmetic makers.
Overseas managers bought a net $401 million of AmorePacific Corp. shares since July 8, when South Korea agreed to deploy a U.S. missile shield, making it their second-most popular stock in the Kospi index. Local investors dumped almost $500 million of the shares in comparison, making it their least favorite. Aberdeen Asset Management and Baillie Gifford & Co. say they're buying Korean shares with exposure to China as business prospects remain bright. Chinese tourist arrivals soared 260 percent last month and helped Korean duty-free stores post record sales.
"We remain shareholders of AmorePacific because the fundamentals have not changed," Yoojeong Oh, a Singapore-based fund manager at Aberdeen Asset, which oversees over $400 billion globally, said by e-mail. "Their exposure to China comes not only from inbound tourism to Korea but also from their direct investment into growing their brands in China for close to 20 years."
Fears of an economic backlash and its impact on Chinese tourist spending have battered South Korea's consumer shares, while speculation that the nation's biggest trading partner would restrict access to its media content also spurred a selloff in entertainment stocks. The two nations have been at odds ever since South Korea agreed to a U.S. plan to deploy the Terminal High-Altitude Area Defense system, known as Thaad, on the peninsula. While designed to protect against North Korea's nuclear threat, China has said the powerful radars threatened its national security. 

Almost 11.2 trillion won ($10 billion) of market value in South Korea's China-related stocks was erased in the month after the decision, according to report from Samsung Securities Co.
South Korean cosmetic makers were stock-market darlings last year, buoyed by the rising spending power of Asian consumers, especially from China. Then came the missile spat. AmorePacific, which sells skin-care products, and rival LG Household & Health Care Ltd., tumbled as much as 20 percent in more than a month since Seoul's agreement to deploy the shield. 
Overseas investors are sensing an opportunity. Foreign funds bought a net $55 million of LG Household stock since July 8, versus net sales of $226 million by local investors. The shares climbed 1.9 percent at the close in Seoul on Friday, while Amorepacific rose 1.1 percent. The Kospi index declined 0.3 percent.
"We see value in a number of the Korean names related to China and own some of these companies," said Ewan Markson-Brown, an Edinburgh-based portfolio manager who helps oversee $171 billion of assets at Baillie Gifford. "Good relations between South Korea and China are a priority for both countries and we would expect this to continue despite the recent noise." Brown owns a stake in CJ E&M Corp., a drama and movie production company, according to data compiled by Bloomberg.
Longer Impact
Not everyone is buying.
JJ Kang, Seoul-based head of equity at Franklin Templeton Investment Trust Management Co., said it will be "difficult to return to the situation before Thaad," while Lee Jin Woo of KTB Asset Management sees a prolonged impact on the stock market.
"I think this issue will continue to affect markets by end of the year," Lee, a fund manager at KTB Asset, said by phone. "In fact, there's no Korean sector free from the issue."
China is considering steps such as limiting imports of South Korean goods and services, Bloomberg reported earlier this month, citing people familiar with the matter. Potential targets are Korean makers for semiconductors or batteries for electric vehicles, said Seo Sang Young, a strategist at Kiwoom Securities, by phone. 
Sustained Demand
The fallout with China isn't going to stop women from buying cosmetics, said Regina Hahm, analyst at Mirae Asset Daewoo Co. "We see Korean women buying Japanese cosmetics, regardless of a political issue between Korea and Japan," she said.
Of the 35 analysts covering AmorePacific Corp., no one has a sell rating on the stock. 32 rate the stock a buy and three a hold, according to data compiled by Bloomberg.
For Aberdeen's Oh, she said she will continue buying South Korean equities.
"We have not changed our strategy or investment process over the Thaad headlines," she said. "We continue to invest in Korea where we see quality stocks that have solid balance sheets and good business models with longer term growth opportunities such as Samsung Electronics and AmorePacific."