Earliest China Readings Signal Weakening Business Sentiment
Bloomberg News
Three private indicators on business confidence fell in August

Steel market jumps on 'optimism binge,' satellite index holds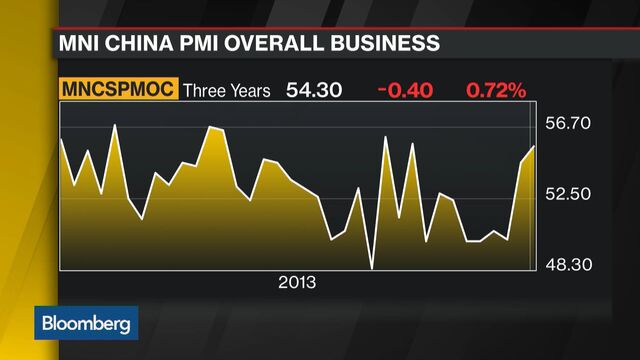 China's stabilizing economy showed a few more cracks this month as policy makers hold back from additional stimulus, the earliest private indicators suggest.
Three readings based on private surveys declined, suggesting weaker sentiment in August at large and small firms. It's not all bad news, though: A gauge of the steel market continued to rebound and a satellite index of factory activity edged up.
China's policy makers have refrained from across-the-board monetary stimulus in recent months and switched to reining in risks emerging in the bond and property markets. The government this week also announced a range of measures, such as plans to open more sectors to private and foreign investors, suggesting longer-term reforms are back in focus.
Here's what the earliest private indicators show:
SME Confidence
Standard Chartered Plc's Small and Medium Enterprises Confidence Index fell to 54.9 this month from 55.5 in July. Smaller companies appear to be under greater pressure, Standard Chartered said.
"Both domestic and export demand remained sluggish, and unfavorable weather appears to have disrupted production," Shen Lan, a Beijing-based China economist, wrote in the report. "We expect the authorities to maintain ample liquidity in order to contain funding costs, while using fiscal policy measures to reduce SMEs' financing burden and support their real activity."
Less Optimistic Executives
Executives at China's largest companies are less confident. The MNI China Business Sentiment Indicator fell to 54.3 in August from 55.5 in July, according to Market News International. A less proactive monetary policy stance could be starting to have an impact, according to the statement. The relatively volatile indicator is based on a survey that includes about 200 companies listed on the Shanghai or Shenzhen stock exchanges.
"The fact that companies are now less optimistic about future business conditions could be read as a warning sign that the growth momentum is likely to wane somewhat in the near term," Andy Wu, Beijing-based senior economist at MNI Indicators, wrote in a statement. "Offsetting this, we believe the Chinese authorities will likely maintain an expansionary fiscal policy for the remainder of 2016."
Sales Managers
Sales managers are also feeling a little more glum. An index by London-based research firm World Economics Ltd. edged down to 51.2 in August from 51.7 in July.
The data "shows that the Chinese economy continues to grow, but business confidence ebbs once again," Chief Executive Ed Jones wrote in a statement. "The manufacturing sector is continuing to post relatively low levels of market growth and lackluster levels of business confidence, suggesting a slightly gloomy outlook for what has been the growth engine of the Chinese economy for many years."
Satellite View
The China Satellite Manufacturing Index was little changed at 48.2 in August. That's slightly higher than the final level of 48.1 in July, according to San Francisco-based SpaceKnow Inc., which analyzes thousands of industrial facilities using commercial satellite imagery.
Steel Strength Holds up
Diverging from the trend, S&P Global Platts China Steel Sentiment Index jumped to 62.68 this month from 53.71 in July. It is based on a survey of about 70 to 85 China-based market participants including traders and steel mills.
"The market seems to be on a kind of 'optimism-binge', seeking out any reason to keep the steel price party going," Paul Bartholomew, a senior managing editor of steel and raw materials for S&P Global Platts, wrote in a statement. "The concern is that steel production will ramp up to supply domestic demand that's not really there, and China will be forced to lift steel exports even higher."
— With assistance by Xiaoqing Pi
Before it's here, it's on the Bloomberg Terminal.
LEARN MORE