Corbyn Ally Suggests Labour's Top Donor Shouldn't Vote in Race
By
David Sainsbury gave more than 2 million pounds to Liberals

Corbyn, Smith held sixth debate of leadership battle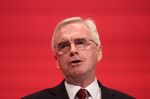 The U.K. Labour Party's biggest donor, David Sainsbury, shouldn't be allowed to vote in the leadership competition because he also gave money to the Liberal Democrats, suggested John McDonnell, the party's voice on the economy and a key ally of its beleaguered leader.
Party officials are guilty of "double standards," McDonnell said Thursday in an e-mailed statement. That's because they've barred Ronnie Draper, a leader of the bakers' union and supporter of the party chief, Jeremy Corbyn, from voting in the leadership contest, while still allowing Sainsbury, a member of the House of Lords, to vote. Corbyn has been challenged for the leadership by his former work and pensions spokesman, Owen Smith.
"Labour party members will not accept what appears to be a rigged purge of Jeremy Corbyn supporters,"said McDonnell. "While Ronnie, a supporter of Jeremy Corbyn, has been denied his say in Labour's election, no action is being taken over the Labour peer, Lord Sainsbury."
Statistics released on Thursday by the Electoral Commission showed Sainsbury donated 2.125 million pounds ($2.8 million) to the Liberal Democrats in the second quarter, making him that party's biggest donor. He was also Labour's biggest donor in the three-month period, contributing 2.15 million pounds.
Smith and Corbyn clashed in their sixth head-to-head debate on Thursday. The men disagreed on their approach to Brexit, nuclear weapons, and NATO, and argued when Smith pressed Corbyn to confirm he had voted "Remain" in the country's June 23 referendum on EU membership. Ballots have already been sent to party members, and the winner is due to be announced on Sept. 24.
Before it's here, it's on the Bloomberg Terminal.
LEARN MORE