Trump, Clinton Trade Blistering Attacks on Race, Prejudice
By and
Republican says Clinton smearing his campaign and supporters

Democrat says Trump's bringing hate groups into the mainstream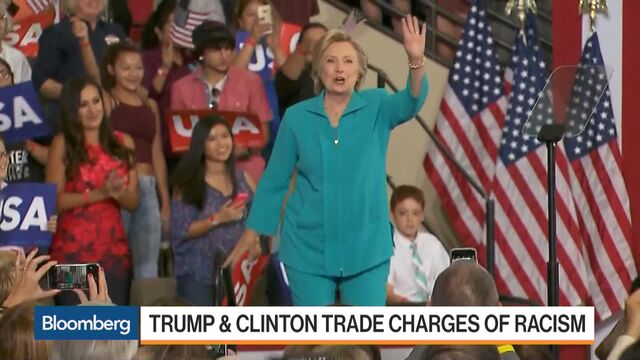 Donald Trump accused Democratic presidential nominee Hillary Clinton of smearing his supporters as racists, minutes before she accused him of stoking the racial resentment of hate groups and turning his party over to a fringe movement.
The candidates traded sharp accusations in extraordinary back-to-back speeches on Thursday that put the politically charged issue of race in the U.S. at the forefront of the campaign for the White House.

"Donald Trump has built his campaign on prejudice and paranoia," Clinton said in Reno, Nevada. "He's taking hate groups mainstream and helping a radical fringe take over one of America's two major political parties. His disregard for the values that make our country great is profoundly dangerous."
Across the country in Manchester, New Hampshire, the Republican said Clinton was trying to deflect scrutiny of her use of private e-mail and conflicts of interest with her family's foundation during her time as secretary of state. He called it the most "brazen attempts at distraction in the history of politics," and that her allegations were an insult to "the millions of decent Americans" backing his campaign.
Border Security

People who want their country's border secured "are not racists," Trump said. Wanting to build a wall along the U.S. border with Mexico "doesn't make you a racist, it makes you smart." And he said that "people who speak out against radical Islam and who warn about refugees are not Islamophobes."
"It's the oldest play in the Democratic playbook," Trump said. "When Democratic policies fail, they are left with only this one tired argument: 'You're racist. You're racist. You're racist.' They keep saying it. It's a tired, disgusting argument and it's so totally predictable."
Clinton said she originally intended to talk about her proposals to help small businesses while in Reno but switched after Trump shook up his top campaign staff last week. Her decision to take on the topic of race comes as Trump, trailing in national and battleground state polls and rejected by a growing list of establishment Republicans, has shifted to talking about the plight of minorities in the U.S. and backing away from some of the harsh rhetoric on immigration that he used in his primary campaign.
Political Fallout
It also comes as Clinton confronts ongoing questions about her use of personal e-mail, and potential conflicts stemming from her family's charitable foundation. Even as he delivered a pre-emptive response to Clinton, Trump kept a focus on that issue.
"Hillary Clinton ran the State Department like a personal hedge fund," Trump said in Manchester. "Access and favors were sold for cash," he said, adding that Clinton's actions had "all the elements of a major criminal enterprise."
Clinton listed statements and actions by Trump that she said have encouraged or given a wider audience to the views of white supremacists and other extremists, including the so-called alt-right movement, which is vocally opposed to immigration and racial diversity and
casts itself as an alternative to mainstream conservatism. Clinton's attempt to establish a link for voters between Trump and the alt-right comes at a pivotal time for the Republican's strategy for the November election.
New Campaign Chief
Trump last week hired Stephen Bannon, the executive chairman of Breitbart News, as chief executive officer of his campaign. The conservative website has assumed a central role in the alt-right movement, targeting not just Democrats but Republican lawmakers who don't share its anti-immigration views. Bannon, in a July interview with left-leaning magazine Mother Jones, called the website "the platform for the alt-right." 
"The de facto merger between Breitbart and the Trump campaign represents a landmark achievement for this group -- a fringe element has effectively taken over the Republican Party,'" Clinton said. "There's always been a paranoid fringe in our politics, a lot of it arising from racial resentment. But it's never had the nominee of a major party stoking it, encouraging it, and giving it a national megaphone. Until now."
Kellyanne Conway, a pollster who Trump elevated to campaign manager at the same time he named Bannon, dismissed Clinton's effort to link Trump with the alt-right movement.
Trump's campaign is "not at all" a platform for the movement, Conway said on CBS News on Thursday. "We've never even discussed it internally. It certainly isn't part of our strategy meetings. It's nothing that Mr. Trump says out on the stump."
'European Descent'
According to the Southern Poverty Law Center, the term alt-right was coined in 2008 by Richard Spencer, president of the National Policy Institute. The Washington-based group describes itself as "an independent organization dedicated to the heritage, identity, and future of people of European descent in the United States, and around the world."
The National Policy Institute said in a statement on Thursday that it has no involvement with the Trump campaign or Breitbart.com. "While Spencer has written favorably about both Trump and Breitbart, he has consistently emphasized they are not exactly the Alt Right," the group said in its statement.
Spencer said in a blog post on Thursday that the Republican Party is "the White Man's party, whether it likes it or not." By trying to connect Trump to the movement, Clinton "will be empowering us today," he added.
'Right Into Our Trap'
Matthew Boyle, Washington political editor of Breitbart News, said Clinton is "walking into the lion's den" by focusing on the alt-right movement. She is unwittingly drawing a distinction between "a national-populist view point and a globalist-elitist view point. Hillary is walking right into our trap," he said in an interview Wednesday.
As he has in recent days, Trump on Thursday wove an appeal to black and Hispanic voters into his stump speech. He also has moved away from the position he held during the primaries that all undocumented immigrants in the U.S. should be removed by a "deportation force" in as little as two years.
Trump now says he'd prioritize the deportation of people who committed crimes in the U.S. while living there without documentation, which is similar to President Barack Obama's approach.
Anticipating Clinton's speech, Trump also sought to turn the tables.  
"Hillary Clinton isn't just attacking me. She is attacking the people of all backgrounds -- all backgrounds -- who support this once-in-a-lifetime, incredible movement," he said. "We can't let that stand. We can't"
— With assistance by David Knowles, Ben Brody, Jennifer Jacobs, Mark Niquette, Margaret Talev, and Joshua Green
Before it's here, it's on the Bloomberg Terminal.
LEARN MORE