Clinton Raises California Cash from Hollywood and Tech Luminaries
Magic Johnson, Justin Timberlake, and Jessica Biel hosted Clinton in Los Angeles, and Tim Cook and Meg Whitman attended her Bay Area events.
By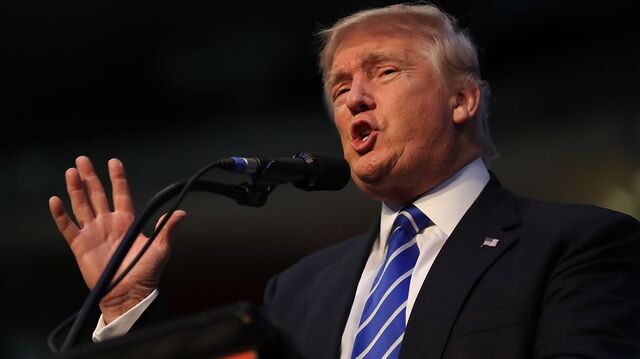 Democratic presidential nominee Hillary Clinton raised millions of dollars this week from big names in Hollywood and Silicon Valley amid a string of new developments about the Clinton Foundation and as Republican Donald Trump stepped up attacks on her.
Stars including Magic Johnson, Justin Timberlake, and Jessica Biel hosted Clinton in Los Angeles, and big tech players including Apple Inc. Chief Executive Officer Tim Cook and Hewlett Packard Enterprise CEO Meg Whitman, a longtime Republican, attended her Bay Area events.
QuickTake U.S. Campaign Finance
Clinton has "compassion, commitment, and courage," Whitman told a crowd of 700 gathered in a Redwood City hotel ballroom on Wednesday, according to two people in the room. "I'm all in."
Whitman's appearance came at the tail end of Clinton's three-day, nine-fundraiser trip through Los Angeles, Orange County, and the Bay Area that brought in at least $17.9 million. Ticket prices ranged from $500 to at least $200,000, with proceeds for the pricier events going to the Clinton campaign and to the Hillary Victory Fund, which also supports the Democratic National Committee and dozens of state Democratic parties.
Clinton's western swing came as she faced renewed media scrutiny over the influence that Clinton Foundation donors wielded during her four years at the State Department and amid new developments about her State-era e-mail system, including a judge's order that the department expedite its review of almost 15,000 documents the FBI recovered from Clinton's servers that could possibly be released before Election Day.
Trump, meanwhile, avoided planting himself in the middle of any major controversies this week and has focused on trying to undercut her.
Key California backers of Clinton say they aren't concerned.
"This is just the silly season," said former California Governor Gray Davis, who attended 500-person fundraiser at Johnson's Beverly Hills home, where tickets cost $2,700 each. "They're trying every attack to see which one sticks."
"If the Clinton Foundation is going to be the biggest liability against Hillary in this campaign, we're going to be more than okay," said Michael Kives, an agent at Creative Artists Agency, who worked for former President Bill Clinton and is a major bundler. "No president in history has done more in a post-presidency to better the world than Bill Clinton."

While fundraising this week, Clinton has largely stayed out of the public eye, appearing before cameras only briefly on airplane tarmacs and at hotel service entrances, though she did phone into CNN while traveling between two of her fundraisers on Wednesday.
Clinton responded to Trump's aggressive attack earlier in the day in which he called her a "bigot" who only sees blacks and Hispanics as votes.
"He is taking a hate movement mainstream," Clinton said, mentioning him challenging President Barack Obama's natural-born citizenship in 2011 and saying he has "courted white supremacists."
Clinton tried to move away from rationalizing her private e-mail setup as secretary of state, acknowledging that when she discusses it people think she's trying to excuse it.
"There are no excuses," she said.
Clinton also declined to commit to doing a press conference in the near future, something she hasn't done in more than 260 days.
"Stay tuned," she said "There'll be a lot of different opportunities for me to talk to the press."

Cook jumped in a staff van with campaign chairman John Podesta to travel to the final fundraiser of Clinton's trip, at the home of Laurene Powell Jobs, the widow of Apple founder Steve Jobs. It was an intimate three-hour dinner for just 20 people, each of whom gave at least $200,000, making it a $4 million meal for Clinton.
Other than Cook, it's been rare for the journalists traveling with Clinton to see the big-name backers turning out for Clinton, though actress Jennifer Aniston was spotted walking uphill to Timberlake and Biel's Hollywood Hills home. Actors Jamie Foxx and Tobey Maguire were also there, attendees said, as was producer Shonda Rhimes.
Whitman also attended a Monday dinner at the Beverly Hills compound of Univision Communications chairman Haim Saban, where tickets cost $50,000 each for its 100 guests. Other Republicans were also on hand, said one attendee who declined to share names.
Trump on Wednesday jabbed Clinton for spending three days behind closed doors courting the glitterati.
"People don't know where she is. Her supporters have very little enthusiasm," he said during a rally in Tampa. "The only people enthusiastic about her campaign are Hollywood celebrities, in many cases celebrities that aren't very hot anymore. And Wall Street donors, special interests, lobbyists, etcetera, that want to control government, not to the benefit of our country, but to the benefit of their wallet."
—With assistance from Sahil Kapur.

(
Corrects review and release timeline in fifth paragraph.
)
Before it's here, it's on the Bloomberg Terminal.
LEARN MORE