China's Biggest Oil Company Aims for 50% Natural Gas by 2020
By
Oil and gas output to rise 30% to 300 million tons by 2030

Oil to trade between $50-$60 in 2017, 2018; reach $80 by 2020
China's biggest oil company wants natural gas to account for half its output by the end of the decade.
PetroChina Co. aims to raise natural gas as a share of its production from 37 percent currently, President Wang Dongjin told reporters Thursday in Hong Kong. The company supports the government's efforts to liberalize gas prices and implement market-based reforms, he said.
"We will have some adjustment on oil and gas production down the road," Wang said. "There is a huge potential for natural gas production to grow in the years to come."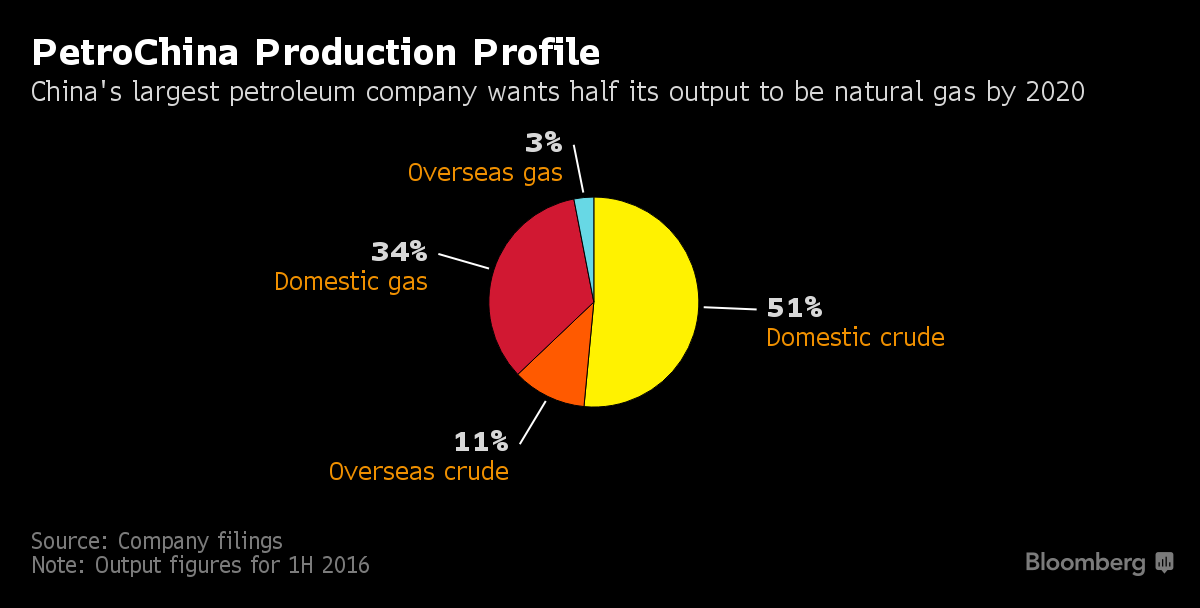 The world's largest energy consumer is seeking to raise the share of less-polluting natural gas in its energy mix to 10 percent by 2020. President Xi Jinping's government twice cut gas prices last year in an attempt to boost demand. While demand growth for oil has slowed, natural gas use rose 9.8 percent in the first half this year.
PetroChina shares in Hong Kong gained as much as 1.9 percent, the biggest intraday gain in more than a week, and were up 0.6 percent at HK$5.25 at 1:41 p.m. local time. The city's benchmark Hang Seng Index added 0.3 percent.
2030 Targets
The state-owned explorer plans to raise output by around 30 percent to produce more than 300 million tons of oil and gas equivalent (6.02 million barrels per day) by 2030, with half of that coming from overseas projects, Wang said. PetroChina had 14.4 percent of its output coming from overseas in the first half of the year, according to its interim report.
"The target should be very achievable based on our current overseas oil and gas equity reserves," Wang said. "The pace of overseas oil and gas production growth will also be affected by factors including crude price when we make investment decisions."
The company's global crude output in the first half of the year fell 1.4 percent to 470.6 million barrels from the same period in 2015, it said in a statement Wednesday. Gas production rose 7.4 percent to 1.66 billion cubic feet. Total oil and gas output was 748.2 million barrels of oil equivalent. While that's up 1.7 percent from the same period last year, its a 1.3 percent slide from the second half of 2015.

China National Petroleum Corp., PetroChina's parent company, is prioritizing natural gas exploration and production in the second half the year and may adjust investment strategies depending on the change in oil prices, Chairman Wang Yilin said in a statement last month.
Pipeline Sale
The state-owned explorer's profit dropped 98 percent to 531 million yuan ($80 million) in the six months to June, while revenue fell 15.8 percent to 739 billion yuan, it said Wednesday. The sale of a Central Asian pipeline network helped the company recover from its first-ever quarterly loss earlier this year.
Lower crude price forced PetroChina's exploration and production business to post a 2.4 billion yuan operating loss in the first half, compared with a profit of 32.9 billion yuan a year earlier. Operating profit from refining jumped almost fourfold to 21.4 billion yuan from 5.6 billion a year ago, according to PetroChina's earnings statement.
The explorer cut its domestic crude output target for 2016 to 103 million tons from 106 million tons set at the beginning of the year as some high-cost fields were shut down because they couldn't make a profit at current oil prices, PetroChina's President Wang said on Thursday.
Reallocating resources to refining may be a strategy to deal with low crude prices, Wang said. The shift will be temporary as oil and gas output will lead the company's rebound once oil recovers to $60 to $80 a barrel, he said. The company expects prices to stabilize between $45 to $50 a barrel in the second half of this year, before rising to around $50 to $60 by 2017, and $60 to $80 by 2020, he said.
— With assistance by Dan Murtaugh
Before it's here, it's on the Bloomberg Terminal.
LEARN MORE