Capital Goods Orders, Sentiment Improve: U.S. Economic Takeaways
By and
Non-defense bookings ex-aircraft increase most since January

Bloomberg comfort gauge has best two-week gain in seven years
What you need to know about Thursday's U.S. economic data:
DURABLE GOODS ORDERS (JULY)
Rose 4.4 percent (forecast was for 3.4 percent gain), most since October
Orders for capital equipment excluding defense hardware and aircraft advanced 1.6 percent, the most since January, after rising 0.5 percent
Shipments of those goods unexpectedly fell 0.4 percent (forecast was for 0.3 percent gain) after downwardly revised 0.5 percent drop in June
Inventories of durable goods climbed 0.3 percent, most this year
The Takeaway: The increase in capital goods bookings marks the first back-to-back advance since early 2015 and signals companies are becoming more willing to boost spending. This is a relief, given that business investment on equipment has subtracted from economic growth for the last three quarters, leaving consumer spending to do the heavy lifting. Inventories of durable goods picked up after six straight declines, another hopeful sign for third-quarter growth. One caveat to an otherwise encouraging report was that shipments of non-military hardware excluding aircraft -- which are used to calculate gross domestic product -- weakened for a third straight month. A sustained improvement in orders may, over time, help shipments to also turn up.

JOBLESS CLAIMS (WEEK ENDED AUG. 20)
Fell by 1,000 to 261,000 (forecast was 265,000)
Four-week average declined to 264,000 from 265,250
Continuing claims decreased to three-week low of 2.15 million
The Takeaway: While claims have been in a tight range this month, applications managed to ease to a five-week low and show employers remain optimistic about the economy. For the last 77 weeks, new filings have stayed below the 300,000 level that economists say is typically consistent with a healthy labor market. With fewer candidates to choose from in a tightening labor market, managers are hanging on to workers, especially those with skills and experience -- a development that some economists say will lead to faster wage growth.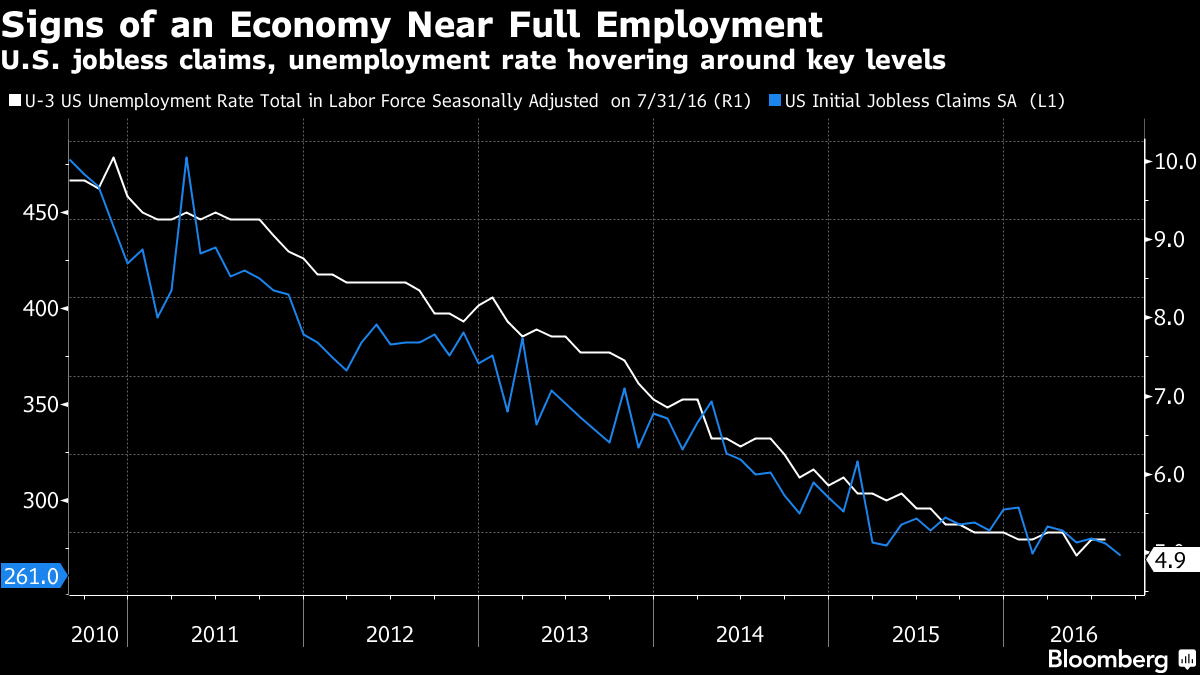 BLOOMBERG CONSUMER COMFORT (WEEK ENDED AUG. 21)
Rose to 45.3, the highest since April 2015, from 43.6
Over last two weeks, gauge is up 3.5 points, the most since 2009
Measure of buying climate increased to the highest level since April 2015
The Takeaway: Americans are certainly in the mood to shop, likely encouraged by discounts from retailers, cheap fuel and an overall more optimistic view of their personal finances. A stable job market and steadily rising wages are also behind the improvement, supporting forecasts that the economy will pick up after a tepid first half of 2016. The report also showed Democrats are particularly cheery, as polls reflecting a lead by presidential candidate Hillary Clinton boosted the group's confidence to the strongest in six months.