Brexit Bulletin: When Trump Met Farage
The former UKIP leader offers the Republican presidential nominee some lessons from Brexit
By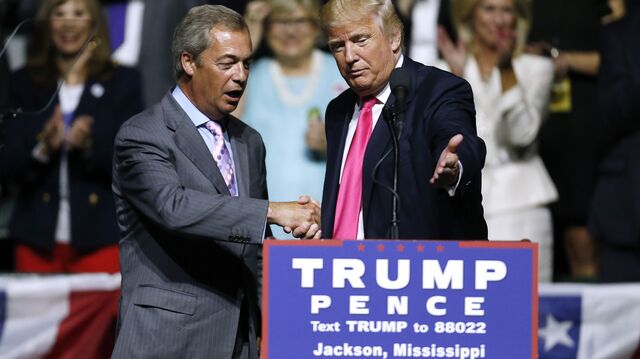 Sign up to receive the Brexit Bulletin in your inbox.
Nigel Farage, the former U.K. Independence Party leader who led the charge for Brexit, appeared on stage at a rally with Republican presidential nominee Donald Trump last night, urging supporters to vote "against the establishment" as the two men drew parallels between their campaigns.
"They told us that our economy would fall off a cliff ... and David Cameron—then our prime minister, but no longer—told us we might even get World War Three," Farage said. "We saw the polling industry do everything they could to demoralize our campaign. On the day of the election itself, they put us 10 points behind. But actually, they were all wrong."
Farage has long compared his insurgent campaign to get Britain out of the European Union to the Tea Party wing of the Republican Party, Bloomberg's Robert Hutton reports. After his side's surprise referendum win on June 23, Farage sees Trump delivering a similar victory in the U.S.
Introducing Farage in Jackson, Mississippi, the Republican nominee also invoked Brexit as inspiration for voters wanting to topple the establishment.
"They voted to break away from rules, by large corporations and media executives who believe in a world without borders. They voted to reclaim control over immigration, the economy and over their government. Working people and the great people of the U.K. took control of their destiny."
But How Much Control?
Controlling immigration may have been a major theme of the Leave campaign, but Britons are largely skeptical that Brexit will cap migrant flows, Bloomberg's Thomas Seal reports.
A poll for think tank British Future found that a majority don't expect the government will deliver on a promise to bring net migration to below 100,000 by 2020. Six in ten adults surveyed said they would specifically like fewer low-skilled immigrants, even as they took a much more lenient view on high-skilled labor.
"Public trust in governments' competence to manage immigration—including meeting its own targets—is at rock bottom," said Sunder Katwala, director of British Future. "But the Brexit shake-up could be an opportunity to get immigration policy right."
Net migration was 327,000 in the year through March–close to the record–official data showed on Thursday.
Merkel's Patience
German Chancellor Angela Merkel said she "can allow the time" for the U.K. to decide what it wants from the EU, signaling that the other 27 member countries will press ahead with "the European project" in the meantime.
Starting off three days of talks with fellow European leaders on the EU's way forward, Merkel suggested there's no advantage in pressing Prime Minister Theresa May's government for now because the EU can't negotiate new relations until the U.K. government's position is clear.
German Companies
German companies may take a different view. Data today showed business sentiment fell the most in four years in August, suggesting that German firms are increasingly concerned that Brexit will damp future orders, Bloomberg's Julia Hirsch writes. The U.K. is Germany's third-largest export market.

Consumer Boom Set to Flag
Meanwhile in the U.K., quickening inflation looks set to erode almost two years of real-wage growth, undermining the key driver of the economy, Bloomberg's Emma Charlton reports.
Data due Friday will probably show consumption helped growth accelerate to 0.6 percent in the second quarter, before the referendum. But there are challenges ahead for households. The pound's 11 percent drop since the vote is already pushing up the price of imports and some economists see inflation accelerating above 3 percent next year, eroding spending power. Businesses may already be feeling the Brexit effect, with economists predicting firms scaled back spending last quarter.

On the Markets
European shares fell for the first time in four days, with investors speculating that recent gains were overdone, as they await Federal Reserve Chair Janet Yellen's Friday address in Jackson Hole, Wyoming.

And Finally...
The three cabinet ministers in charge of delivering Brexit met privately yesterday to "clear the air," the Times reports. The newspaper said Boris Johnson, Liam Fox and David Davis met without aides in an attempt to ease tensions after a series of leaks about their respective roles.
For more on Brexit follow Bloomberg on Twitter, Facebook and Instagram. For full coverage visit Bloomberg.com