Billionaire Wang Urges China to Help Bring Shoppers Back Home
Bloomberg News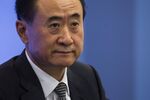 Billionaire Wang Jianlin, who runs China's largest chain of department stores, urged the government to encourage Chinese shoppers to spend money at home instead of overseas.
"Policy makers need to study this very seriously and come up with policies to curb excessive overseas consumption and pull consumers back home," the Dalian Wanda Group Co. chairman said at a conference in Beijing on Thursday. The government needs measures against "shoddy" goods to regain consumers' confidence in domestic products, he said.
Wang, who voiced similar concerns at a conference in Hong Kong in January, said he's doing his part. The tycoon rejected a proposal from Korean government officials to provide him with a piece of land near Seoul on condition he uses it to build 20 to 30 plastic-surgery clinics geared toward Chinese visitors, he said. Wang turned down the offer because it would result in more Chinese consumers going to Korea for plastic surgery, he said.
Chinese consumers spent about 1.5 trillion yuan ($225 billion) overseas in 2015, with about half of that going toward shopping, Commerce Minister Gao Hucheng said in a briefing in February.