A Trump Win Could Upend Graduate Students' Right to Unionize
The 2000 presidential election derailed grad students' hopes for successful union campaigns. It could happen again.
By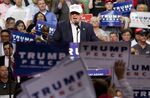 Graduate students seeking to unionize scored a victory this week before the National Labor Relations Board. But should Donald Trump win the White House or Republicans keep control of the Senate, the celebrations could be cut short.
At stake is the right for students who work as teaching and research assistants at private colleges across the country to organize for better pay and benefits. These students have argued that because they are paid to perform work for their schools, they deserve the labor protections afforded to typical employees.
Schools have fought such student-led efforts for decades, and the NLRB has long held that college students who work for their private schools are "primarily students," rather than employees. In contrast, student-workers at public universities and colleges have been able to join unions for decades because they're considered government employees. 
This week's decision by an NLRB controlled by President Barack Obama appointees changes that dynamic. In their 3-1 ruling , commissioners found that students working as teaching and research assistants at Columbia University—and all students paid by private colleges to perform work under school supervision—are workers and are free to organize.
Student assistants at Northwestern, American, Duke and St. Louis universities, among other schools, will soon try to unionize, the Service Employees International Union said Tuesday in the wake of the decision. There could be organizing efforts at hundreds of campuses, according to the American Federation of Teachers.
Private colleges are not pleased. "In an era where so many are worried about the costs of college, this is a big step in the wrong direction. We strongly disagree with this decision and continue to believe that students should be treated as students, not employees, until Congress says otherwise," said Peter McDonough, vice president and general counsel at the American Council on Education, a Washington trade group that lobbies on behalf of colleges. John H. Coatsworth, Columbia's provost, said he's "concerned" by the prospect of an outside party representing student-workers in an open letter.
It's just the second time the labor agency has favored student-workers over their private college employers.
In 2000, an NLRB then controlled by President Bill Clinton appointees reached a similar conclusion as this week's. Over the next four years, graduate students at such schools as New York University, Brown, Brandeis, Tufts, Cornell, and the University of Pennsylvania tried to organize. A few held union elections.
But by that point, Clinton had left office, leaving a labor agency controlled by appointees of President George W. Bush. In 2004, the NLRB reversed the decision from four years earlier, setting a precedent that would last until this week.
Academics who closely follow labor issues said a similar dynamic could play out in the coming years if student-workers try to organize and private colleges maintain their opposition to student-workers' efforts.
Outside of successful appeals to federal courts, or a rewriting of federal labor laws by Congress, private colleges opposed to student-workers' unionization efforts could seek to reverse this week's decision in two notable ways. The first involves a Trump win in November. The second, if Hillary Clinton is elected president, depends on continued Republican control of the Senate.
Trump would have a chance to swing control of the NLRB's normally five-member board immediately to officials favoring employers' interests over those of workers. Republicans typically nominate labor officials sympathetic to employers, while Democrats normally nominate those who favor workers. Businesses connected to Trump have faced accusations of union-busting.
The board will be down to three members by next week, following the conclusion of one member's term, allowing a potential Trump administration to install two new members. A current board member who will serve through most of next year, Philip A. Miscimarra, dissented from this week's decision in favor of Columbia grad students.
At that point, said Catherine L. Fisk, a professor at University of California, Irvine, School of Law, schools could petition the NLRB to reverse itself yet again. (Fisk co-wrote an amicus brief on behalf of Columbia graduate students in their battle against the school.)
If Clinton beats Trump, schools and Republican senators sympathetic to their plight could simply run out the clock, Fisk said. The labor agency can't rule on disputes when it has fewer than three board members, the Supreme Court ruled in 2010. The next term expires in December 2017.
Schools could simply refuse to bargain with student-led union organizers and hope neither the labor board nor federal courts force them to act before then. Afterwards, Senate Republicans could block Clinton appointees to the board—as they've previously done to Obama—rendering the agency unable to act.
Fisk predicts that private colleges will end up bargaining with student-workers who choose to organize.
"My guess is that universities will decide that this is not the biggest issue they confront," she said.
Risa L. Lieberwitz, a professor of labor law at the Cornell University School of Industrial & Labor Relations, isn't so sure. Private colleges over the past three decades have increasingly come to resemble corporations, where decisions are made by administrators rather than through negotiations with faculty, said Lieberwitz, who co-wrote the amicus brief with Fisk. Unionized student-workers would interfere with administrators' dominance over campus affairs.
"It's about control," she said.