Photographer: Jeff Swensen/Getty Images
Personal Finance
Young Americans With Student Debt Flock to Clinton in Poll
Forty-three percent are for the candidate, up from 13 percent when Sanders was in the race, according to a survey of 1,500 millennials.
By
People with student loans, who heavily favored Bernie Sanders in a presidential election poll taken in June, are migrating to the Clinton camp, according to a new survey.
In an online poll taken last week of 1,500 18- to 31-year-olds with student debt, 43 percent said they wanted Clinton to win the election, student loan marketplace LendEDU.com reports. That's up from just 13 percent of the same age cohort who favored Clinton when Sanders was still in the running.
The level of Trump supporters stayed fairly steady over the past two months. Twenty-six percent favored Trump in June, and while that number fell to 23 percent, the poll has a margin of error of plus or minus 3 percentage points.
A more dramatic change came in the undecideds. Back in June, it was 25 percent. Now it's 34 percent.

The poll showed a definite gender divide, too: 

With some 43 million people holding more than $1.3 trillion in student loan debt—and some voters vehemently against forgiving it—it's a hot issue for many. In the June poll, student loan borrowers said the level of student debt overshadowed ISIS as a threat to the U.S.
As you'd imagine, most of that student debt sits on the balance sheets of millennials and Gen Xers. A 2015 Gallup poll found that 35 percent of millennials and 25 percent of Gen Xers had student debt, with Gen Xers owing the most, at $30,000. It also found that about 19 percent of Americans report carrying student loans.
Watch Next: The United States of Indebted Students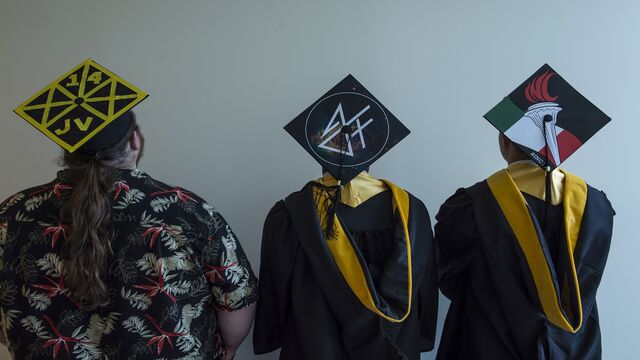 (
Corrects headline and first chart, to avoid the implication that all the respondents are voters, and timing of Gallup poll in last paragraph.
)
Before it's here, it's on the Bloomberg Terminal.
LEARN MORE