UBS: Technical Indicators Portend Danger for S&P 500 Bulls
The weakness of U.S. inflation expectations and cross-asset correlations signal danger ahead, according to analysts at UBS AG.
by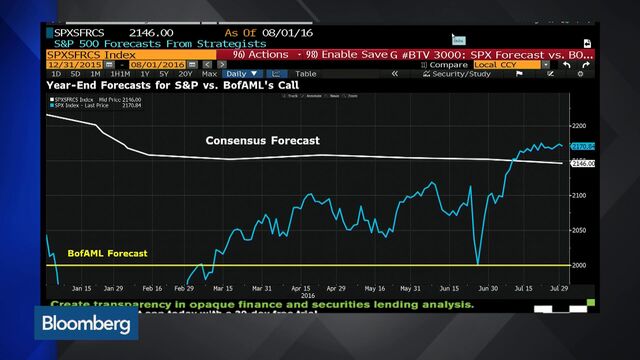 Gear up for a significant correction in the U.S. stock market over the next two months as a slew of technical signals suggest the summer rally will run out of steam.
That's the message from equity technical analysts at UBS AG, citing weak U.S. inflation expectations, and the prospect of rising correlations between asset classes, among other factors. 
The summer rally in stocks has been fueled by revived expectations that the Fed will keep rates lower for longer, but that belief has not been accompanied by a material rise in U.S. inflation expectations. The five-year break-even inflation rate is currently at 1.35 percent compared with 1.62 percent in late April. Typically, higher inflation expectations indicate higher expectations of aggregate demand and expected real growth, often seen as a boon for stock prices. 
In a research report published on Tuesday, the analysts, led by Michael Riesner, point out that rising U.S. stocks have not been accompanied by an increase in the Treasury market's forecast for inflation in recent months. Broadly-speaking, this divergence, as well as its high level, suggests the recent rally in the S&P 500 (SPX) from June onward is mature, and at risk of a correction in September. 
The UBS analysts write: 
The most important point is certainly the major divergence/gap that has been developing between US inflation expectations and the SPX. Historically seen, inflation expectations are highly correlated to risk. If we just look at this relationship and the huge gap that has been forming over recent months, this is one of the few indicators that really questions the whole July breakout campaign of the SPX. 

The analysts also say the U.S. stock market could reach a cyclical top in September given too-low volatility in absolute terms, as per the Chicago Board Options Exchange (CBOE) Volatility Index (VIX). They also cite an increasing ratio between the CBOE Skew, an option-based indicator for the perceived tail risk of the distribution of the SPX, and the VIX since its July low, which in the past has been an indicator of oncoming corrections.

In sum, the analysts reckon these indicators — and the prospect for a stronger U.S. dollar — set the stage for a tactical correction. 
As an investor we would use the current low volatility environment to buy protection and/or we would generally be a buyer of volatility particularly on the FX side and in gold, where it is very likely to see significant moves over the next few weeks!!

Before it's here, it's on the Bloomberg Terminal.
LEARN MORE