U.S. ELECTION WRAP: Trump Goes Deep South, Clinton 'Alt-Right'
Trump stumps in Mississippi amid Southern challenges.
By and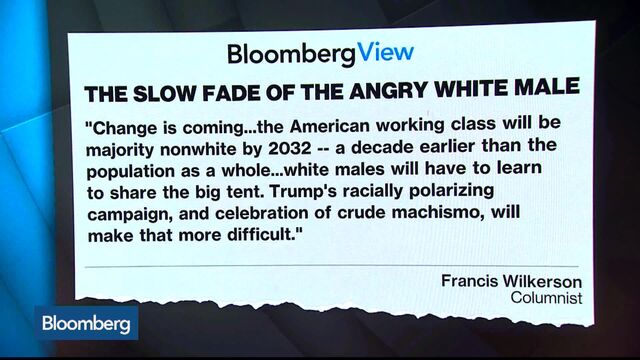 Donald Trump plans to stump in the longtime Republican stronghold of Mississippi tonight as a new poll underscores the challenge he faces in parts of the South.
Trump lags Hillary Clinton in North Carolina by 2 points, 44%-42%, according to new Monmouth University poll; Mitt Romney beat President Obama in the state by about 2 points in 2012

Trump running mate Mike Pence held events in N.C. today as Trump focused on Florida and, surprisingly, Mississippi

The scheduled rally in Jackson, Miss., follows Trump's speech yesterday in Austin, Texas, which prompted conservative news site Townhall to ask "why?"

"Short answer: He's fundraising, but he's also losing this race, and he knows it," Townhall political editor Guy Benson wrote today
"With states like Missouri, Indiana, North Carolina, Georgia, and possibly others in play this cycle, Trump faces a serious challenge. But shouldn't ruby red states like Texas and Mississippi, for crying out loud, be slam dunks for him?"

Benson noted that presidential candidates typically "parachute in very briefly" to non-competitive states where they hold fundraisers

Trump is either sticking to a "stupid" plan to hold rallies everywhere he goes, or his team thinks it's worth it
If the former is true, donors and allies should demand to know why Trump isn't spending more time in swing states like Pennsylvania; if his campaign has "any inkling that either Texas or Mississippi might be close, it's already game over": Benson

Last night, MSNBC's Rachel Maddow touted a new poll paid for by the South Carolina Democratic Party that showed Trump and Clinton tied at 39% in the Palmetto State; S.C. last voted for a Democrat for president in 1976
Ed McMullen, chairman of Trump's campaign S.C., called the survey a "troll poll" representing wishful thinking, the Post and Courier of Charleston reported

"They know they don't have a chance, and so does everyone else," McMullen said
FiveThirtyEight's constantly adjusting prediction model gives Clinton a 40.7% chance of winning S.C. compared to 59.3% for Trump, based solely on polls
Click here to get the U.S. Election Wrap by e-mail every afternoon

CLINTON AND 'ALT-RIGHT'
Clinton plans to take aim at what her camp calls Trump's "embrace of the disturbing 'alt-right' political philosophy, according to a campaign advisory

She's set to speak about Trump and the so-called alt-right tomorrow in Reno, Nev.
The alt-right ''brand is embracing extremism and presenting a divisive and dystopian view of America which should concern all Americans, regardless of party'': Clinton campaign
The alt-right started with a speech by conservative writer Paul Gottfried in late 2008, after the Republican Party's electoral wipeout, according to Washington Post
Gottfried called for an ''alternative right'' that could take on ''the neo-conservative controlled conservative establishment"

Trump's new campaign CEO, Steve Bannon, was executive chairman of alt-right  website Breitbart News  before taking leave to join the GOP nominee's White House bid

POLLS/PREDICTIONS

TRUMP AND IMMIGRATION 
Trump this afternoon in Tampa, Fla., vowed to end government "corruption" if elected in Nov.

He reiterated his determination to build a "big wall" at the U.S. southern border, paid for by Mexico
The recital of one of his campaign's cornerstones comes as Trump's position on immigration is under scrutiny as it appears he is backing off off his earlier call for mass deportations of undocumented immigrants
At a town hall-style event last night hosted by Fox News, Trump was asked if there are parts of federal immigration law he'd change to accommodate law-abiding undocumented immigrants:
"There certainly can be a softening because we're not looking to hurt people," he said. He didn't indicate openness to considering legal status for those people, however, and reiterated that he that he intends to follow the law, which requires removing them from the country
The second part of the Fox News discussion with Trump airs tonight
See related Bloomberg story

SILICON VALLEY FUNDRAISING
Clinton is in California again today and will attend a fundraiser co-hosted by Apple CEO Tim Cook

Cook has history of donating to both Democrats and Republicans; earlier this year he hosted a fundraiser for GOP House Speaker Paul Ryan
Trump is proposing a big tax cut for companies like Apple, which would see its tax rate slashed on about $200 billion of profit it keeps offshore, Bloomberg's Lynnley Browning reported
Cook's support for Clinton, who hasn't tried to match Trump's tax cuts for corporations, reflects how his proposals haven't won him much support among U.S. technology leaders, Browning wrote; see full story here

ETC 
Clinton today called Mylan Pharmaceuticals' price increases on EpiPen "the latest troubling example of a company taking advantage of its consumers"; said company should immediately reduce price; see full Bloomberg story here
Eric Trump told CNBC it would be "foolish" for his dad to release his tax returns because "people who know nothing about taxes" would examine them and try to come up with conclusions about "things they know nothing about"

"I'm actually the biggest proponent of not doing it"
Every major party candidate since 1976 has released their returns; Clinton and her running mate, Tim Kaine, released their returns earlier this month according to Wall Street Journal

Sen. Bernie Sanders' post-campaign group, Our Revolution, holds launch event tonight; the former Democratic presidential candidate plans to speak

The group has been plagued by infighting over financing and management, New York Times reported



CONGRESSIONAL ELECTIONS 
SENATE RACES
FUNDRAISING: Cmte for a Progressive Senate Majority filed organizing papers with Federal Election Commission to raise money jointly for Democratic Senate nominees Maggie Hassan in N.H., Catherine Cortez Masto in Nev., Ted Strickland in Ohio, Katie McGinty in Pa.

Treasurer is Tom Lopach, who is helping lead Democratic effort to overturn GOP Senate majority as executive director of Democratic Senatorial Campaign Cmte

AZ: Democratic Rep. Ann Kirkpatrick's campaign released TV ad spotlighting $1m donation from Saudi Arabia to nonprofit linked to Republican Sen. John McCain

Narrator says "33 years in Washington have changed John McCain"; he was first elected to Senate in 1986 after four years in House
McCain has strictly honorary role with the nonprofit --McCain Institute for International Leadership at Arizona State U. -- in compliance with Senate ethics rules, his spokeswoman told Bloomberg News when it broke story in March
McCain faces ex-state Sen. Kelli Ward in Aug. 30 primary; e Kirkpatrick unopposed in Democratic primary

FL: GOP Sen. Marco Rubio leads Democratic Rep. Patrick Murphy 44%-39% in likely Nov. matchup, according to survey conducted Aug. 19-22 by Florida Atlantic University's Business and Economics Polling Initiative

In Aug. 30 primaries, Rubio leads homebuilder Carlos Beruff, 69%-8%, in Republican race, with 15% undecided; while Murphy has 54% support in Democratic contest compared with 8% for Rep. Alan Grayson, 7% for lawyer Pam Keith, 22% undecided;
Survey had sampling margin of error of +/- 2.7 percentage points for general election, +/- 5.1 percentage points for Democratic primary, +/- 5.4 percentage points for Republican primary
Beruff's campaign released statement saying he "supports Donald Trump 100%" while Rubio "supports himself 100%"; Trump beat Rubio 46%-27% in Fla.'s GOP presidential primary in March

NC: Republican Sen. Richard Burr had 45% to 43% for Democratic challenger Deborah Ross in Monmouth University poll conducted Aug. 20-23 of 401 likely voters; sampling margin of error was +/- 4.9 percentage points
NH: Hassan's campaign released TV ad defending her efforts as governor to combat opioid/heroin crisis and criticizing attack ads from Republican Sen. Kelly Ayotte's "special interest backers"
NV: Senate Majority PAC, Democratic super-political action committee, released TV ad saying that since Dec.'s San Bernardino mass shooting, GOP Rep. Joe Heck "voted no 23 times" on measures "to ban suspected terrorists from buying guns"

Many of the votes were procedural, such as July 12 vote on Democratic "motion to commit" judicial review bill to Judiciary Cmte with instructions it add language barring gun transfers to international or domestic terrorist suspects
Senate Majority PAC is run by political advisers to Nev. Democratic Sen. Harry Reid, who's retiring and backing Cortez Masto in race against Heck

OH: Strickland in TV ad responded to Republican attacks that as governor he "drained" state's rainy day fund, saying he tapped money during national recession to protect funding for education, police, fire services

"Attacks ads are easy; leading in a crisis is hard," said Strickland, who led Ohio from 2007-11 and is seeking to unseat Republican Sen. Rob Portman
Portman's campaign in statement described Strickland as "the worst modern governor in modern Ohio history" and pointed to 2012 Columbus Dispatch editorial that said Strickland and Democrats "spent the state into a disastrous $8 billion shortfall"
Fighting for Ohio Fund, super-PAC supporting Portman, reported spending $715k more against Strickland, bringing to $7.2m its cumulative spending in OH-SEN race, according to FEC filing today
HOUSE RACES
FL-01: Republican Rebecca Johansen Bydlak will campaign Aug. 26 in Pensacola with Mich. GOP Rep. Justin Amash, chairman of House Liberty Caucus and member of House Freedom Caucus, according to campaign release

Bydlak, who works for anti-government-spending advocacy group, is among eight Republicans seeking district represented by GOP Rep. Jeff Miller, who's not seeking re-election

FL-02: District now represented by Democratic Rep. Gwen Graham is "one of the few nationally that are likely to flip from Democrat to Republican this year," Associated Press reported

Graham not seeking second term after new congressional map approved by Fla. Supreme Court last Dec. added more Republicans to district
Republicans Neal Dunn, Mary Thomas and Ken Sukhia "all agree on the main issues" and have "taken turns attacking each other for not being conservative or Republican enough," AP reported

FL-04: Republican Hans Tanzler III endorsed by McCain in seven-candidate primary for open district in Jacksonville area, Florida Times-Union reported

Tanzler's father was mayor of Jacksonville from 1968-79, period that overlapped with McCain's captivity in Vietnam as his family lived in a Jacksonville suburb
"Mayor Tanzler took care of my family while I was a POW in Vietnam" and "I know and trust that Hans Tanzler will do the same for all Florida families," McCain said in statement distributed by Tanzler campaign
Ex-Jacksonville sheriff John Rutherford also top candidate in GOP primary for seat of Republican Rep. Ander Crenshaw, who's retiring after eight terms

FL-13: GOP Rep. David Jolly said "party matters a little bit less than community does" and "I have not endorsed Trump, nor do I defend him," Associated Press reported in profile of his race against party-switching Democratic ex-Gov. Charlie Crist

District leans Democratic after changes in redistricting

NJ-05: Democrat Josh Gottheimer in TV ad said he "grew up in Jersey" and would "reach across the aisle and be a problem-solver" in Congress

Without mentioning GOP Rep. Scott Garrett by name, Gottheimer said "we're being represented by a Tea Party extremist" and we "need to reject the bigotry of my opponent"
Garrett didn't financially support National Republican Congressional Cmte, the House Republicans' campaign arm, because it recruited gay candidates, Politico reported in July 2015; Garrett told NJ.com in March he supports "anyone who supports what's in the Republican platform, which includes support for traditional marriage"
District includes most of Bergen County near NYC
Related Bloomberg story: Garrett Fundraising Lags as Wall Street Shies Away
Before it's here, it's on the Bloomberg Terminal.
LEARN MORE