Turkish Army Starts Operations Against Syria to Secure Border
By and
Operation gets air support from U.S., approval from Russia

Offensive enables Free Syrian Army to capture town of Jarablus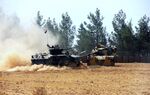 Turkey launched its biggest military operation in Syria to force Islamic State militants away from its border and deter further advances by Syrian Kurds allied with Turkish separatists.
Airstrikes pounded Islamic State positions and Turkish tanks crossed the frontier, allowing the Turkish-backed Free Syrian Army to win control of the strategic town of Jarablus, the state-run Anadolu news agency reported. Turkey will continue operations in Syria until imminent threats to national security have been neutralized, a Turkish official said, asking not to be named in line with administration policy.
The operation, which drew air support from the U.S. and approving words from Russia, is a major escalation in Turkey's involvement in Syria, just weeks after a failed coup attempt by elements of the military. Syrian Kurds have been seeking to link enclaves they control by seizing major towns and villages along the frontier with Turkey from Islamic State. That has alarmed Ankara, which fears it will embolden the nation's own restive Kurds.
"Turkey is doing the right thing by shelling ISIS, but for the wrong reason, and that is purely to prevent the Kurds advancing," Dlawer Ala'Aldeen, founding president of the Middle East Research Institute, said by phone from Erbil, using another name for Islamic State. The intervention could undermine the war against Islamic State, he said, as "the Kurds have proven to be the most effective force on the ground."
Suicide Bomber
The offensive began just days after a suicide bomber said to be linked to Islamic State killed at least 54 people at a wedding in Turkey's largely Kurdish city of Gaziantep. Its launch coincided with U.S. Vice President Joe Biden's trip to Turkey to meet President Recep Tayyip Erdogan.
Bilateral ties have been strained by Turkey's demand that the U.S. extradite the exiled faith leader Erdogan accuses of instigating the foiled July coup, and the government's crackdown on the cleric's perceived allies.
Speaking in Ankara, Erdogan said the offensive targeted both the jihadists and Kurdish fighters, vowing Turkey would "never kneel down."
"If needed, Turkey is determined to actively intervene to protect Syria's territorial integrity," Erdogan said. "Turkey won't allow a fait accompli in Syria."

Turkey has been a fierce opponent of Syrian President Bashar al-Assad and a main supplier to Free Syrian Army rebels seeking to oust him.
It's equally opposed to the major advances made by Syrian Kurds during the country's five-year civil war. Turkey has been fighting its own Kurdish separatists, the PKK, for decades, a conflict that flared again last year as peace efforts collapsed.
Ibrahim Kalin, Erdogan's spokesman, said in a Twitter posting that Turkey would clear its borders from "terrorist groups" including Islamic State and the Syrian Kurdish militant group YPG. Biden, in a joint press conference in Ankara, said the YPG must pull back east of the Euphrates River, and wouldn't get U.S. support unless it did so.
Nihat Ali Ozcan, a strategist at the Economic Policy Research Foundation in Ankara, forecast a relatively brief operation.
"Even in the case of resistance, we are looking at a campaign that is unlikely to take more than a few weeks as the Turkish military serves as the leading force for the Syrian rebels," he said. "The next question is how far Turkey will encourage the FSA to advance south, where there are Kurdish groups that Turkey opposes," he added.
"They will want to contain the Kurdish advance further south from its border," he said.
The Borsa Istanbul 100 Index fell 1.6 percent in Istanbul. The lira weakened to as low as 2.9685 per dollar early Wednesday following the news of the operation, but was little changed in evening trading.
Air Support


The conflict in Syria has strained Turkey's ties with both the U.S. and Russia, whose military entered the war on behalf of Assad in September. Erdogan opposes American support for Syrian Kurdish fighters who have been instrumental in the U.S.-led battle against Islamic State in Syria. Moscow's backing of Assad led to a military confrontation with Turkey in November and a months-long rift that followed.
Wednesday's offensive found all three countries in a rare show of unity.
A senior Obama administration official said Turkey planned and executed the Jarablus operation after the U.S.-backed Syrian Kurds in the Manbij area advanced beyond an agreed-upon front line.
The campaign, which began in cooperation with the U.S., intended to push Islamic State further inside Syria and create a buffer against Kurds if they attempt to move northward, said the official, who could not be identified in line with government policy. U.S. A-10s and F-16s conducted airstrikes against Islamic State in Jarablus.
"We believe very strongly the Turkish border should be controlled by Turkey," Biden said in Ankara. "There should be no occupation of that border by any group other than a Syria that is united" and "not carved into little pieces."
Russia also offered its blessing to the operation, with a Foreign Ministry official deeming it "timely." Its Syrian government ally called it a violation of its sovereignty.
The town that is in the rebels' sights, Jarablus, has been a key staging area for transporting militants in and out of Turkey, and is one of the last bastions that Islamic State controls along the Syrian-Turkish border. Earlier this month, the U.S.-backed, Kurdish-led Syria Democratic Forces seized Manbij, which is about 20 miles (32 kilometers) south of Jarablus, from Islamic State.
The leader of the Kurdish PYD group, Saleh Moslem, said on Twitter that Turkey is "in the Syrian quagmire" and will be "defeated" along with Islamic State.
Moslem's remarks show the group's only aim is to carve out a separate homeland instead of fighting against Islamic State, Turkey's Foreign Minister Mevlut Cavusoglu said later in televised comments.