business
Trudeau Names New Envoy for EU Trade Pact Amid Opposition
By
Former trade minister Pierre Pettigrew appointed for 1 year

Freeland 'cautiously optimistic' Canada can get CETA done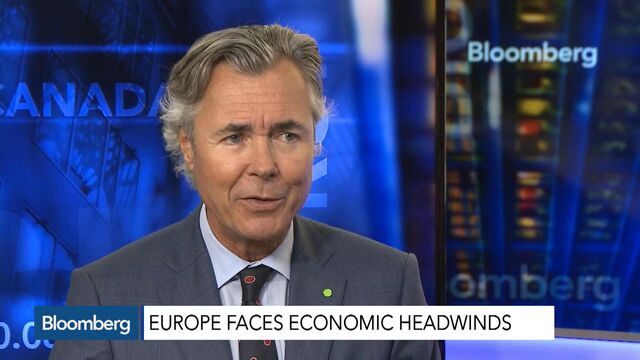 Canadian Prime Minister Justin Trudeau's government has recruited a former lawmaker to help sew up a trade agreement with the European Union as a rising tide of protectionist sentiment threatens to derail the deal.
Pierre Pettigrew, who served both as minister of trade and foreign affairs, will be Canada's new envoy for the Comprehensive Economic and Trade Agreement. The one-year appointment comes as Canada's current International Trade Minister, Chrystia Freeland, mounts a renewed push to get the deal ratified and enacted more than two years after it was signed.

"This is the final lap of CETA," Freeland said in an interview. "The finish line is in view, but there are still some steep hills for us to climb. This is a really important agreement for Canada but it's been a hard agreement to get."
Canada's renewed push comes after Trudeau's cabinet agreed to CETA changes that boosted the dispute settlement powers of states over corporations in a bid to calm fears in Europe. The EU still rejected fast-track approval of the pact, which will be subject to national ratification across the 28-member bloc.
Protectionist sentiment is threatening to derail the Trans Pacific Partnership, a deal Canada agreed to but which Hillary Clinton and Donald Trump oppose. The U.K.'s Brexit vote is another hurdle that clouds the future of CETA and Canada's global trade.
'Protectionist Time'
"This is probably the most protectionist time in the transatlantic region since the Second World War," said Freeland, a former journalist, who added she's "cautiously optimistic" Canada can get the CETA deal done.
CETA was signed in 2014 by Canada's previous government. When Trudeau took power late last year, the deal hadn't "moved an inch," Freeland said. She's now aiming lobbying efforts at EU pro-labor parties, and plans to speak to the conference of Germany's Social Democratic Party in September.
"The political parties in Europe whose support we need to get CETA across the finish line are the parties of the center-left, the social democrats," Freeland said. "The parties of the center-right have supported CETA all along, but the center-left has not." Freeland departs next week with Trudeau for the Group of 20 summit in China, where she says Canada will schedule bilateral meetings to push for CETA ratification.
Pettigrew, now an adviser to Deloitte LLP, served as a Liberal Party lawmaker from 1996 to 2006. He represented the Montreal district of Papineau, losing in the 2006 election. The riding is now held by Trudeau.
Pettigrew's new position is described as a "volunteer" role, with government covering the cost of travel, accommodation and incidental expenses.
'Deep Understanding'
Pettigrew "has a deep understanding of Europe, of trade, of business," Freeland said. "This is really about us not taking anything for granted."
The Canada Europe Roundtable for Business welcomed the appointment and said in a written statement it looks forward to "supporting his efforts to ensure that the groundbreaking CETA is ratified and comes into force in 2017." CETA is projected by the government to add C$12 billion ($9.3 billion) annually to Canada's economy.
The path to full CETA ratification isn't entirely clear. The European Parliament and EU Council, a representative body of governments of the EU states, haven't yet voted on the pact. If it's passed there, the deal could provisionally come into force while national ratifications take place.
In Canada, Trudeau maintains a parliamentary majority and is expected to quickly ratify the pact. A former Canadian trade official said he believes the deal remains on track to be ratified, and that delays have become the norm.
"When we were in government, we learned a long time ago we had to shred the calendar on this thing," said Adam Taylor, a senior trade consultant at Ensight Canada, an Ottawa lobbying firm. He was previously an official in the office of former trade minister Ed Fast, whose Conservative Party lost power to Trudeau's Liberals. "I think the optimistic view is, it's back on track and both sides recognize that they need to get the deal done and preserve as much of it as they can."
— With assistance by Jonathan Stearns
(
Updates with comment from industry group in 12th Paragraph.
)
Before it's here, it's on the Bloomberg Terminal.
LEARN MORE