These Nine Charts Show Just How Quiet the Market Is Right Now
Should have just gone to the beach.
By and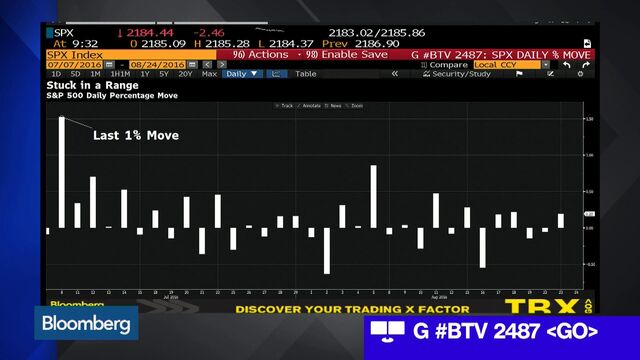 For traders — the few who were stuck on the floor instead of vacationing, that is — August 2016 has typified what it means to be stuck in the summer doldrums.
How calm and boring have these dog days of summer been? We put together nine charts that show the extent of the calm across a variety of asset classes.
The 20-day moving average for volume across all U.S. stock exchanges is at its lowest level in over a year:

Stocks haven't been making major swings because of the light volume, either. The last 1 percent move for the S&P 500 came on July 8:

It's often said that in a crisis, all correlations go to one. August 2016 has been anything but that, with the implied three-month correlation among stocks in the S&P 500 sinking to its lowest level in more than two years earlier this month:
As TABB Group Listed Derivatives Analyst Callie Bost highlighted, the CBOE Volatility Index (commonly known as the VIX), which tracks the implied volatility of the S&P 500 over the next 30 days, hasn't risen by one point in a single session since the day after the U.K.'s EU referendum.

For the bond market, the seas have been similarly still in August. Bloomberg News' Andrea Wong and Anooja Debnath observed that, so far, the 10-year Treasury yield has been stuck in its tightest monthly trading range since 2006.

Bank of America Merrill Lynch's MOVE Index, a measure of implied volatility in Treasuries, has ticked up recently but also remains at relatively subdued levels:

Deutsche Bank's foreign exchange volatility index shows that the gyrations among currency pairs, which flared up acutely around the Brexit vote, have largely dissipated:

Even higher-beta asset classes, like emerging markets, have undergone a period of tranquility. Realized volatility over the past 30 sessions for the MSCI Emerging Markets Index has declined to its lowest level in more than a year:

As some become more optimistic on emerging markets, with the Federal Reserve expected to keep rates lower for longer, implied volatility in EM has also decreased substantially from levels seen one year ago. 

It may seem boring, but this calm is almost certainly preferable to the chaos that defined markets in August 2015. A warning, however: Some on Wall Street think this quiet period will soon be over.