The Ultimate Crowd-Sourced Music Map of Austin
Hear recordings of impromptu shows around the city, or upload your own for others to enjoy.
John Metcalfe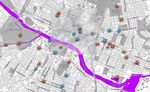 A signature of a good music town is impromptu shows happening in every nook and cranny. And Austin has these melodic moments in spades, as shown (and played) on the community-enhanced "Austin Music Map."
The interactive project, a collaboration between local music personalities, citizens, and radio station KUTX, seeks to catalog the city's spontaneous musicality, from a "renegade marching band floating on Lady Bird Lake" to a "secret performance unfolding under a bridge in East Austin." Here's more from the mapmakers:
Take us into your corner of the city. Show us a musical venue we've never heard of before. Surprise us with your favorite undiscovered musician. Let us in on Austin's best kept musical secrets.

So far, people have helped us capture backyard accordion sessions, spontaneous a cappella duets, late night tango performances, and sweaty warehouse shows.

So snap a picture with your cellphone or make a video or record a story about one of your favorite musical moments—and post it here.
It's not the most intuitive map in the world—the navigation is a bit clunky, and some pinpointed locations are just random interviews or photos—but clicking around will reward any music lover. There's what appears to be a zombie brass band, for instance, and equally rad are this competitive air guitarist, one-man blues band, and "budding concert baby-pianist." So the next time you're digging a band in Austin, record it and pin it on the map so the whole world can enjoy it with you.
H/t Maps Mania