markets
Deepening Gordhan Probe Sends South Africa Assets Into Nosedive
By
Finance Minister ordered to report to police on Thursday

Gordhan says charges 'unfounded', won't be reporting to Hawks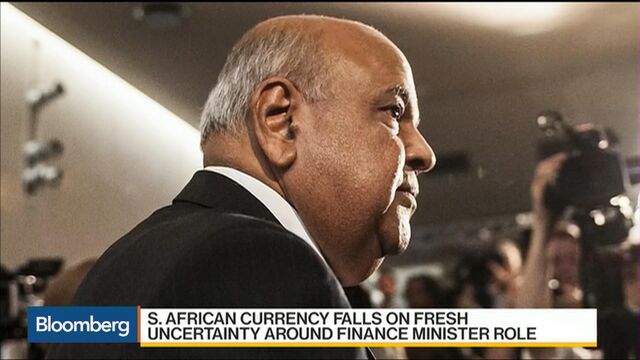 South African markets were left reeling after an investigation surrounding the country's finance minister took a new twist.
The latest development signals a deepening rift between Treasury chief Pravin Gordhan and President Jacob Zuma, whose ruling African National Congress has called for the national budget to be "reprioritized" as the party tries to win back support after a drubbing in local-government elections earlier this month. Gordhan has pledged to cap spending and debt as he battles to stave off a credit-rating downgrade to junk.
"If Pravin Gordhan is detained or arrested or it looks like he's going to be fired from the job then we could see rates go up considerably higher and the rand weaken dramatically," said Nigel Rendell, a senior analyst at Medley Global Advisors LLC in London. This "just highlights the political risk that we still have in South Africa for the foreseeable future, at least for as long as Zuma is around."

The finance minister on Wednesday said he is refusing to report to a special police unit known as the Hawks on Thursday because the alleged charges against him are unfounded. He is being probed over the establishment of a special investigative unit when he headed the national tax agency.
"I have a job to do in a difficult economic environment and serve South Africa as best I can," Gordhan said in an e-mailed statement. "Let me do my job."
The rand extended losses after Gordhan's response, falling 1.3 percent to 14.1894 against the dollar by 6:19 p.m. in Johannesburg, the weakest since July 27, and adding to a 3.1 percent decline on Tuesday. Three-month implied volatility climbed 112 basis points to 19.93 percent, indicating that options traders anticipate wider price swings in coming months.
Yields on benchmark government bonds due December 2026 surged 53 basis points to 9.05 percent, the most since Zuma roiled markets in December by firing then-Finance Minister Nhlanhla Nene and replacing him with a little-known lawmaker. The cost of insuring South African debt for five years using credit-default swaps rose 12 basis points to 243 as yields on dollar bonds due September 2025 climbed 13 points to 4.02 percent.
Credibility Loss
Fitch Ratings Ltd. and S&P Global Ratings affirmed South Africa's long-term
foreign-currency rating at BBB-, the lowest investment grade, in June and said
the government must take decisive measures to bolster growth, quell policy
uncertainty and end political turmoil to avoid a future downgrade. S&P is scheduled to review the rating in December.
"The potential removal of Gordhan implies a loss of credibility and consequently downgrades could manifest in short order," said Peter Kinsella, head of emerging-market economic and currency research at Commerzbank AG in London. "It's no surprise that yields increased and the rand fell like a stone yesterday and today."
Traders are also adding bets on a rate increase by the South African Reserve Bank, with forward-rate agreements predicting a rise of 25 basis points in the next year, compared with six basis points a day ago. The central bank is due to announce its next policy decision in a month after leaving its benchmark lending rate unchanged at 7 percent at its last two meetings.
More Volatility
The Sunday Times newspaper reported in May that Gordhan may face dismissal and arrest on espionage charges for setting up the South African Revenue Service's National Research Group. Gordhan denied any wrongdoing and said he was being harassed by people intent on manipulating the justice system for political gain, while Zuma's office denied there was a rift between him and the finance minister.
Gordhan served as head of the tax authority before his first term as finance minister from 2009 to 2014. He was reappointed to the position in December.
"The threat that Finance Minister Gordhan will no longer be able, or perhaps willing, to continue in his position is now real," John Cairns, a currency strategist at Rand Merchant Bank in Johannesburg, said in an e-mailed note. "Expect further volatility today and the risk bias is now clear."
Before it's here, it's on the Bloomberg Terminal.
LEARN MORE