South African Finance Minister Refuses to Report to Police
By
Gordhan says he has nothing more to say about tax agency unit

President Zuma has refused Gordhan's request to fire tax chief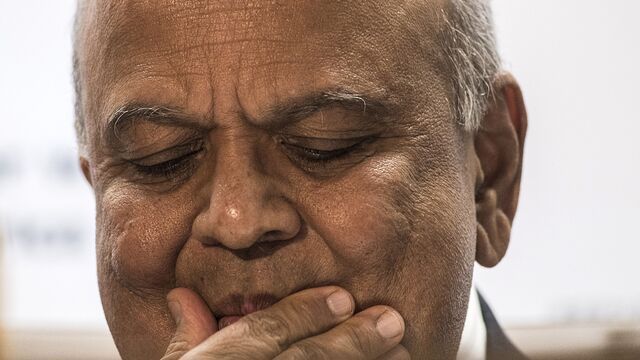 South African Finance Minister Pravin Gordhan said that he had done nothing wrong by authorizing the establishment of a special investigative unit when he headed the national tax agency and he wouldn't obey a police instruction to present himself for questioning.
A special police investigative unit known as the Hawks told Gordhan in a letter to report to its offices on Thursday. Gordhan won't be available and the instruction to appear runs counter to previous assurances from the police that he was not a suspect in its investigations, his lawyer Tebogo Malatji said in a letter to the Hawks.
Suggestions that Gordhan may have acted illegally in setting up the tax agency unit "are wholly unfounded," Malatji said in the letter, which was dated Wednesday and distributed by the National Treasury. "If you require further information, you are welcome to approach us again, because the minister has instructed us to assist wherever we can."
Rand Plunge
Gordhan, 67, was named finance minister in December after President Jacob Zuma roiled markets by firing Nhlanhla Nene from the position and replacing him with a little-known lawmaker. Zuma has since denied his requests to fire the nation's tax chief for insubordination and appoint a new board at the state-owned airline. Fears that Gordhan may lose his job drove the rand to its lowest level in three weeks on Wednesday.
Gordhan said in a statement that he'd been advised that he was under no obligation to present himself to the Hawks and he'd already provided the unit with a comprehensive account of all matters about the so-called National Research Group. The Sunday Times newspaper reported in May that Gordhan may face dismissal and arrest on espionage charges for setting up the group to spy on politicians including Zuma.
"I have a job to do in a difficult economic environment and serve South Africa as best I can," Gordhan said. "Let me do my job."
Hawks spokesman Hangwani Mulaudzi declined to comment. The Presidency said earlier Wednesday that it would issue a statement, and Zuma's spokesman Bongani Ngqulunga didn't answer calls to his mobile phone.
The rand declined as much as 2 percent on Wednesday and was trading 1.2 percent weaker at 14.1748 at 6:11 p.m. in J in Johannesburg, extending Tuesday's 3.1 percent plunge and heading for the weakest level since June 28. Yields on benchmark government bonds due December 2026 surged 53 basis points to 9.05 percent, the most since Zuma fired Nene in December.