business
RBS Tells 3,000 Clients to Speed Up Search for Another Bank
By
Lender writes asking clients to move to a new transaction bank

Remaining customers need to move before the end of the year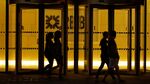 Royal Bank of Scotland Group Plc has told about 3,000 of its global transaction-services clients to speed up their search for another bank.
The Edinburgh-based lender wrote to its remaining GTS clients outside of the U.K. and Ireland to tell them their checking accounts, cash management and trade-finance services probably won't work after Dec. 31, RBS said in a statement on Wednesday. The bank said it's been working with about 7,000 customers in 32 countries over 18 months to find alternative banks as it exits the business, with more than half of those having moved.
Chief Executive Officer Ross McEwan, 59, chose last year to quit what was once seen as one of the most prized assets won in RBS's ill-fated takeover of Dutch lender ABN Amro as he focuses on domestic lending. Some multinational companies including Royal Dutch Shell Plc have had to look for other banks as a consequence of the exit from transaction banking outside of the U.K. and Ireland, people with knowledge of the matter have said.
"The deadline is fast approaching," Jerry Pearce, head of global transaction services at RBS said in the statement. "Most clients have already found new providers, or are well on the way to doing so, but there are a few that have a lot still to do."
'Haggis' Team
RBS signed a formal agreement with BNP Paribas SA to refer its non-domestic transaction banking clients to the French bank last year and rival lenders have been circling to prize away customers. Deutsche Bank AG formed a committee last year to poach clients, known informally as the "haggis" team after the Scottish offal dish, people familiar with the matter have said.
RBS opted to exit transaction banking outside of the U.K. and Ireland because it would cost too much for the lender to invest in the technology required to serve clients and wouldn't deliver adequate returns, McEwan has said. While the bank will assist clients in moving, there is "a point at which we will have no option but to deactivate accounts," Pearce said.
Before it's here, it's on the Bloomberg Terminal.
LEARN MORE