Quant Hot Hand Goes Cold in U.S. as Low-Volatility Trade Recedes
By
For quant traders, only 28 percent beat benchmark since July

Fundamental managers benefit from signs of life in value stock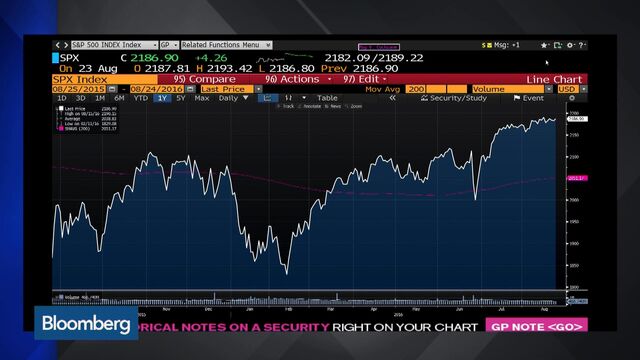 The computers seem confused.
After trouncing their human counterparts in the first half of the year, equity managers that rely on automated processes are having a rough third quarter. The proportion of quantitative funds whose return exceeds their benchmark has dropped to 28 percent since July, data from JPMorgan Chase & Co. show. Compare that to fundamental equity managers, where 52 percent are outperforming.
Stock pickers are exacting revenge because of a rotation below the surface of one the quietest share markets since before the tech bubble, a stretch of peace that lingered for most of Wednesday before an afternoon selloff in drugmakers dragged the S&P 500 Index down 0.5 percent to 2,176.02 at 3:29 p.m. in New York. The popularity of richly valued low-volatility stocks has begun to fizzle -- bad news for quantitative funds that latched onto them for their momentum characteristics following the Brexit vote. Now, value stocks are showing signs of regaining favor.
"This unwind of low vol likely explains the recent underperformance of quant funds, while the rotation into value has helped fundamental investors regain some lost ground," Dubravko Lakos-Bujas, head of equity strategy and global quant research at JPMorgan, wrote in a note to clients Wednesday. "Quant funds fared better in the first half as their performance is more closely tied to low-vol stocks. "
U.S. stocks slipped Wednesday, circling in a holding pattern as investors awaited Friday's speech from Federal Reserve Chair Janet Yellen for clues on when to expect higher borrowing costs. The Dow Jones Industrial Average lost 58.32 points, or 0.3 percent, to 18,488.98, and the Nasdaq Composite Index declined 0.8 percent. The S&P 500 briefly climbed yesterday above its Aug. 15 record close. The gauge has gone 32 days without a 1 percent move in either direction, the longest since 2014.

It's been a difficult year for active mutual funds, faced with nearly $110 billion of outflows as investors poured $35 billion into passive vehicles. Only 34 percent beat their benchmark in the second quarter, according to JPMorgan data. Quantitative strategies fared better, with roughly half outperforming, after their programs benefited from a rally in energy shares following the February low. Now the edge is shifting back to the humans.
Low-volatility ETFs were among the biggest beneficiaries of passive flows this year. The iShares Edge MSCI Minimum Volatility ETF and the PowerShares S&P 500 Low Volatility fund reached $20 billion in total combined assets for the first time in May. Investor interest in defensive industries pushed valuations to records and turned many low-vol companies into into momentum stocks, a favorite among the trend-following quant strategies.
But since the the start of August, BlackRock Inc.'s minimum variance product has seen more than $333 million in outflows, the most ever for a period of that length. Investors added $200 billion to the Vanguard Value ETF over the same time frame.
"What we have seen over the last couple of months is that the more defensive sectors such as consumer staples and utilities have started to underperform because they are so overvalued," Julian Emanuel, executive director of U.S. equity and derivatives strategy at UBS, said in an interview on Bloomberg Television Wednesday. "This is a more uncertain world, and we think volatility will revert once again."
Quants had been the only hedge fund category to actually add to stock holdings in the first half of 2016, a move which paid off as the S&P 500 crept within striking distance of all-time highs. But computer-driven investors have been unloading shares since the Federal Reserve's June meeting, according Mark Connors, Credit Suisse Group AG's global head of risk advisory.
"Quant funds had a very large footprint in gross exposure in 2016 versus long-short funds, which were contracting," Connors said by phone. "Gross exposure is almost flat on the year now for quant funds. They don't do that when their strategies are working."
Drugmakers led equities lower as Mylan NV slid 5.3 percent, after the company drew the ire of lawmakers over a 400 percent increase in the price of a life-saving allergy shot. Democratic presidential candidate Hillary Clinton called the price hike "outrageous." That reminded investors of remarks Clinton made last year regarding high drug prices, which helped spur a 20 percent selloff in the Nasdaq Biotechnology Index.
Health-care shares in the S&P 500 fell the most in two months, as Allergan Plc and Biogen Inc. lost more than 3.3 percent, while Merck & Co. dropped 1.3 percent. Raw-materials tumbled on sinking metals prices, with copper miner Freeport-McMoRan Inc. falling 7.6 percent, the most in a month.
Hawkish remarks from Fed officials last week, lofty stock prices and lackluster data combined to curb the rally that drove the S&P 500 to fresh records this month amid better-than-estimated earnings. A report today showed sales of previously owned homes last month dropped more than forecast from a nine-year high. The main equity index is up 19 percent since reaching a 22-month low in February, and trades near its highest valuation in more than decade, based on estimated income.
With earnings season now all but complete, stocks have barely budged in the past two weeks. The S&P 500 has weaved near the 2,180 level, while the CBOE Volatility Index has held close to a two-year low. A spike higher Wednesday amid the selling in health-care sent the gauge toward its biggest jump in two months. Still, at a mean level around 12 this month, the measure of market turbulence known as the VIX is the lowest for any August since 1994.