Putin's $3 Billion Gift for Pensions Seen Clinching Rate Cut
By
Stronger case for monetary easing in September, economists say

Russia offers one-time pension payment instead of adjustment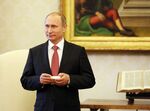 President Vladimir Putin's government is tempting the Bank of Russia to cut interest rates.
This week's announcement to spend more than 200 billion rubles ($3 billion) on a one-time January payment to pensioners, rather than proceed with a possible second increase this year in monthly retirement benefits, is set to help keep inflation in check, at least for now. That may give policy makers the confidence to reduce borrowing costs for the second time in 2016 when they meet on Sept. 16, according to Bank of America Corp., Raiffeisenbank JSC and Rosbank PJSC.
With parliamentary elections only weeks away, uncertainty over fiscal policy has kept the Bank of Russia on alert as it chases next year's inflation target of 4 percent. The payment to retirees pushes back the risk to prices and takes the pressure off the central bank after it drove real rates to the world's second-highest after Belarus.
"The fact that the government won't hold another indexation of pensions in 2016 rather increases the likelihood of the key rate being cut at one of the coming meetings because it lowers inflation risks," said Dmitry Shagardin, chief economist at Bank Saint-Petersburg PJSC, who predicts decreases in September and December. "Canceling the indexation in 2016 is a factor in favor of lowering rates, but it's not a decisive one."
Budget, Wages
The budget outlook and higher wages were in focus for the central bank in July, when it kept its benchmark at 10.5 percent after a 50 basis-point cut the previous month. Governor Elvira Nabiullina stopped short of signaling the start of a new easing cycle after the rate cut in June, although policy makers said they will "consider the possibility" of further easing if inflation is in line with forecasts and based on estimates of risks to price growth.
Derivatives traders are boosting their wagers for a rate cut in the next three months. Forward-rate agreements on Wednesday signaled 62 basis points of decreases, up from last week's low of 39 basis points. The ruble has gained almost 2 percent against the dollar since the last rate meeting on July 29. The Russian currency was 0.4 percent stronger at 64.9150 versus the dollar at 10:54 a.m. in Moscow.
Instead of a costlier adjustment this year, pensioners will receive a payment of 5,000 rubles in January, Prime Minister Dmitry Medvedev said on Tuesday. That will allow the central bank to keep price growth to its target of 5 percent to 6 percent in 2016, according to Natalia Orlova, chief economist at Alfa Bank in Moscow, who estimates it will decelerate by December to 5.5 percent from a year earlier. Annual inflation was at 7.2 percent in July, slowing for the first time in four months.
'Get Serious'
"It looks as though the concern about budget stability has pushed the cabinet to get serious about inflation targeting -- at least in the short run," Orlova said in a report.
While spelling relief this year, the delayed handout muddles the outlook for 2017. The transfer amounts to an annual increase of about 5 percent in nominal disposable incomes in January and creates the risk of an inflation boost of as much as one percentage point in the first quarter of 2017, according to Bank of America.
"The Russian central bank could continue to cut rates this year to keep the real policy rate at around 3.5 percent, but will most likely keep them on hold in the first half of 2017 to fully evaluate inflationary risks from the fiscal policy and the feasibility of the 4 percent target in 2017," said Vladimir Osakovskiy, chief economist for Russia at BofA in Moscow.
Before it's here, it's on the Bloomberg Terminal.
LEARN MORE