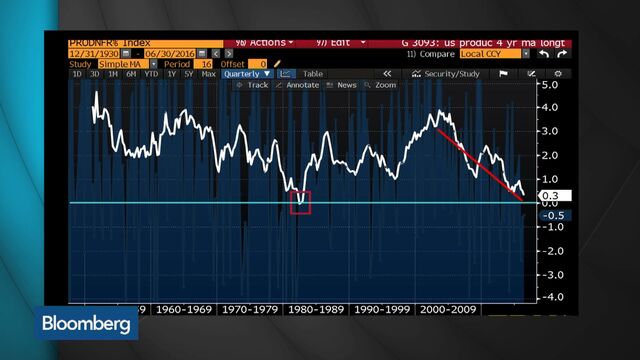 Earlier this month, U.S. economic data-watchers collectively scratched their heads as productivity figures again disappointed, showing that businesses across the country were still struggling to wring out more efficiency from their workers.
U.S. productivity unexpectedly declined for a third straight quarter in the three months through June, Labor Department figures showed. On a year-over-year basis, it fell for the first time since 2013. 
But for those:
marking the end of robust productivity gains (here's to you, Robert Gordon), or
warning of the doom of sluggish productivity elsewhere in the economy (calling Alan Greenspan), or
predicting the Internet Age gains are still on their way (Erik Brynjolfsson), or
simply wishing we knew we were measuring it appropriately,
...you might find some solace in looking internationally. The U.S. still blows other nations out of the water, at least in terms of manufacturing productivity by both foreign and domestic firms, according to data compiled by the Boston Consulting Group.

Aggregating two measures of factory productivity — manufacturing GDP per worker and manufacturing value added — none of 24 other countries that were examined in the BCG data is competitive with the U.S. Brazil fares the worst, at 16 percent of the U.S. rate, while Sweden comes closest at 89 percent.
China, the world's No. 2 economy, has barely a third the manufacturing productivity rate of the U.S. The BCG figures focus on China's Yangtze River Delta region because production is highly concentrated in that area of the country's 3.7 million square miles.
But before businesses flock to U.S. soil on these numbers alone, there are a myriad other factors to consider — including wages, energy and transportation costs, ease of doing business and supplier clusters — that might offset the U.S. productivity advantage, said Justin Rose, a Chicago-based partner at the consulting firm.


Before it's here, it's on the Bloomberg Terminal.
LEARN MORE