Recession-Free Days Risk Making Australia Complacent, Says Treasurer
By
Treasurer warns 25 years of growth can't be taken for granted

Securing change will be frustrating, difficult: Morrison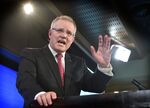 Australia's 25 year-run without a recession is fostering a complacent attitude toward the economy and preventing the prudent budget management needed to avert trouble, Treasurer Scott Morrison said.
In his first major economic speech since the government was returned with a razor-thin majority, Morrison said Thursday a generation has grown up not seeing unemployment above 10 percent, mortgage rates at 18 percent or inflation as a problem. He warned the budget must be returned to the black to insulate against future shocks and private investment had to increase to boost the economy's productive capacity.
"I recognize that in the absence of a 'recession we have to have,' or the threat of 'becoming a banana republic,' achieving necessary change will be more frustrating and more difficult," Morrison said in a speech at a Bloomberg business breakfast in Sydney. "But it is no less necessary, and achieving it this way is far better than the alternative."
The treasurer appeared to be channeling the central bank chief and urged Australians to ask themselves "a few hard questions." Governor Glenn Stevens similarly suggested this month it was time for a "hard-nosed" discussion about reform. Morrison's task is tough: he wants to fix the budget hole without raising taxes or cutting spending in an electorate that refuses to give up services. Meanwhile, the political class has largely gone cold on making the case for economic reform to underpin growth.
To watch excerpts from Morrison's speech, click here
Morrison is arguing the government's 10-year program of steadily lowering the corporate tax rate -- which it took to the July election -- will boost firms' profits sufficiently to encourage higher wages and boost hiring.
S&P Global Ratings last month cut the outlook on Australia's AAA credit score to negative from stable, saying the federal election result potentially dented the government's prospects for reining in a deficit forecast to reach A$37.1 billion ($28.2 billion) next year. Prime Minister Malcolm Turnbull last week said he was introducing an "Omnibus Bill" to parliament that bundles together more than A$6 billion of savings proposals.
Three Scenarios
Morrison sketched out three scenarios on the budget. The first two involved the upper house passing different levels of savings measures and their impact on the bottom line and debt pile. In the third case -- which he conceded isn't likely -- nothing is passed.
"The worst case scenario will see our gross debt exceed A$1 trillion in a decade," he warned. "In all three scenarios the budget does not return to balance, and over the medium term, we are moving away from that goal and not toward it, as major expenditure items" like a national disability support program, come into effect.
In the speech, Morrison also called on Australia to avoid raising the "drawbridge" in relation to free trade, foreign investment and immigration, which have served the country well. He reiterated these policies generate jobs and drive growth.
Morrison himself is at the center of a debate on whether Australia is becoming less receptive to foreign investment -- particularly from China. He vetoed a Chinese-led group's bid for the iconic S Kidman & Co. cattle ranches that span 1.3 percent of the country's land mass; and this month he rejected Chinese offers to buy Ausgrid, a major electricity distributor.
Can't Hide
"We cannot pull the doona over our head by taking false comfort in renewed protectionism. Rather than secure our economic future, it will cost it dearly," he said, using an Australian term for a bed covering. Australia has more than A$3 trillion of foreign investment, with an annual inflow of around A$200 billion, Morrison added.
In 2015, Australia's global export volumes, including tourism and international education, delivered around A$363 billion to the economy and accounted for around 19 percent of gross domestic product and 1.3 percent of annual growth, he said.
Yet political paralysis over budget repair and economic reform has largely left the burden of supporting the economy on the Reserve Bank of Australia, which this month cut interest rates to a record-low 1.5 percent. It's trying to boost consumption at home and keep a lid on the currency to allow tourism and education firms to compete internationally.
December Cut?
The Australian dollar has gained more than 10 percent since a mid-January trough and bought 76.20 U.S. cents at 10:43 a.m. in Sydney. Traders are pricing in a 47 percent chance of an interest-rate cut at the RBA's final meeting of the year in December.
Morrison warned Australia could wind up heading down the path of many of its developed-world peers, whose rate ammunition is exhausted and who lack fiscal firepower because of excessive debt.
"The outcome has been private capital remaining on the sidelines while public debt sets new records and rates go negative as central banks push against the string," he said.
Investors are looking for projects in Australia that create value, said Morrison. Without providing specifics, he referred to "real income-earning projects and enterprises" that could help create an economy driven by reforms.
"This is the type of the economy that can coax private capital out of its cave. That is our task," he said.
Before it's here, it's on the Bloomberg Terminal.
LEARN MORE