Newspapers Beat iPhones as WH Smith Leaves Tech Trailing: Chart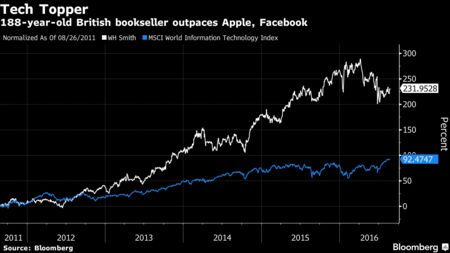 In the era of Facebook and Twitter, a British newspaper seller pre-dating Queen Victoria is providing bigger gains for investors than modern technology. Over the last five years, WH Smith shares have eclipsed an index that also includes Apple and Google, even as its sales have maintained a steady decline. Careful management of profitability in its contracting town-center stores and growth in outlets at airports and train stations mean full-year earnings will meet analysts' estimates, the retailer said Wednesday.
Before it's here, it's on the Bloomberg Terminal.
LEARN MORE