Merkel Grants U.K. Time to Set Brexit Strategy as EU Moves Ahead
By
Other EU countries to move forward with 'European project'

Europe waiting for U.K. to show its hand, Merkel says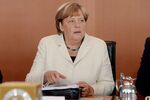 German Chancellor Angela Merkel said she "can allow the time" for the U.K. to decide what it wants from the European Union in Brexit talks, signaling that the other 27 member countries will press ahead with "the European project" in the meantime.
Starting off three days of talks with fellow European leaders on the EU's way forward, Merkel suggested there's no advantage in pressing Prime Minister Theresa May's government for now because the EU can't negotiate new relations until the U.K. government's position is clear.
"As we have said, as long as Britain hasn't submitted its application, we can't answer the question of what kind of a relationship we envision," Merkel told reporters in Tallinn after talks with Estonian Prime Minister Taavi Roivas on Wednesday. The remaining EU countries have enough to discuss "that we can allow the time that Britain wants to take to figure out what relationship it wants with the EU."
Merkel's stop in the Baltic follows talks on Monday with French President Francois Hollande and Italian Prime Minister Matteo Renzi to plan the EU's future after Britons voted in June to leave the bloc. She's meeting 12 other EU leaders through Saturday to prepare for a post-Brexit summit without May in Bratislava on Sept. 16.
"I'm looking ahead to this phase very calmly," Merkel said. "The 27 want to pursue the European project" and make the EU better, she said.