Lloyds CEO Pledges Commitment to Bank After Private Life Reports
by
Antonio Horta-Osorio says he regrets causing adverse publicity

CEO writes to staff after newspapers questioned his expenses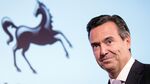 Lloyds Banking Group Plc Chief Executive Officer Antonio Horta-Osorio told employees at Britain's largest mortgage lender he's dedicated to leading the bank after unfavorable media coverage of his private life.
"I deeply regret being the cause of so much adverse publicity and the damage that has been done to the group's reputation," the CEO wrote in a memo to staff on Wednesday obtained by Bloomberg News. "I am as committed as ever to leading the group forward to deliver our strategy and to meet our future ambitions."
Horta-Osorio's message comes after a British newspaper reported details about his private life and raised questions about his expenses while on a business trip to Singapore for the International Monetary Conference earlier this year. Chairman Norman Blackwell ordered a probe into the CEO's spending on the trip after the Sun newspaper's report, according to a person with knowledge of the matter.
"My expenses were reviewed in light of speculation by certain newspapers and the group has confirmed that they are fully compliant," Horta-Osorio wrote in the memo. "I pay for my personal expenses whilst away and only reclaim what is a business expense."
With the reputation of major British banks in tatters in the wake of the financial crisis and a number of scandals, their leaders have sought to regain the trust of customers, the wider public and lawmakers. Lloyds was among lenders that required a bailout from taxpayers, needing 20.3 billion pounds ($27 billion) to avert its collapse.
Horta-Osorio, 52, announced plans last month to eliminate 3,000 jobs and close 200 more branches as he warned Britain's vote to leave the European Union would hurt the bank's ability to increase dividends. The Portuguese ex-Goldman Sachs Group Inc. banker has been at the helm of the lender for five years, helping to cut the government's stake from 43 percent to about 9 percent while restoring the bank to profitability.
Before it's here, it's on the Bloomberg Terminal.
LEARN MORE