Liquidity Losses Disrupt $450 Billion Mortgage Market in Denmark
by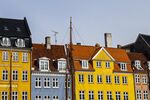 In the country with the longest history of negative rates, many people are now being paid to take on a mortgage. That helps Danes keep the rich world's biggest debt burden in check. But the covered bond market on which they rely is facing some fundamental changes that are seriously eroding liquidity.
According to a survey of investors released this week, trades in Danish mortgage bonds that once took as little as two minutes can now drag out a full day. When big trades go through, price disruptions are about four to five times what they were a decade ago.

While central bank data show turnover remains high in the world's biggest covered bond market backed by residential mortgages, the industry says its survey reveals a different picture.
What the central bank data don't capture is that Scandinavia's two biggest banks, Danske and Nordea, are only doing two-thirds of the repo agreements they used to do in mortgage bonds. What's more, market participants like hedge funds, bank treasuries and proprietary trading desks "have either disappeared, or their influence on the market has been reduced," according to Peter Andersen, head of markets at Jyske Bank and a member of the Danish Securities Dealers Association. He says Danish covered bond holdings by banks have dropped by almost 50 percent since 2014.
The development poses a threat to the record-low borrowing costs Danes are accustomed to, Andersen said. In particular, the practice of refinancing home loans at better rates may become more difficult.
"If you have a lock-up effect, then if a borrower wants to buy back their bond to issue another and change the loan on their house, it would be impossible or" at least "very difficult and expensive," Andersen said.
The ability to refinance easily has shaped Denmark's entire economy. Though gross household debt is more than 300 percent of disposable income, a steady demand for the often AAA rated mortgage bonds has given Danes access to some of the world's cheapest loans. It's also supported house prices and driven up homeowners' equity.
In refinancing auctions this month, borrowing rates on one- and three-year bonds backing 30-year mortgages fell to record lows. Even including the cost of fees to sell the bonds, the rates were negative. By comparison, U.S. borrowers pay more than 2.5 percent on one-year adjustable rate mortgages, according to data compiled by Bloomberg.
Andersen says new bank rules, including proposed capital requirements for holding European covered bonds in trading books that are four times those on similar residential mortgage-backed securities, are creating disincentives for market participants. The upshot is that a Danish mortgage will probably cost 0.50 percentage points more, Andersen said.
Meanwhile, record-low interest rates are making it more "difficult" to argue the case that Denmark's mortgage bond market faces any threats, according to Karsten Beltoft, the head of the Danish Mortgage Banks' Federation. But he says it's important to remember that rates can quickly change, while rules are probably here to stay.
Denmark's mortgage bankers have already taken a number of steps to improve liquidity, consolidating more than 80 percent of bonds into series of more than 500 million euros ($565 million) each, according to central bank data. But there remain more than 400 individual bond series on the market, which is 10 times the number in neighboring Sweden, according to industry statistics.
"We don't believe that you can roll back regulation," Andersen said. "My hope is that we can get politicians and regulators to see that rules and regulations to achieve financial stability are fine, but they are having unforeseen consequences that are leading to a lack of liquidity."
Before it's here, it's on the Bloomberg Terminal.
LEARN MORE