HP Inc. Forecasts Earnings That Fall Short of Estimates
By
PC, printer maker reports profit that surpasses projections

Stock falls in extended trading after forecast is announced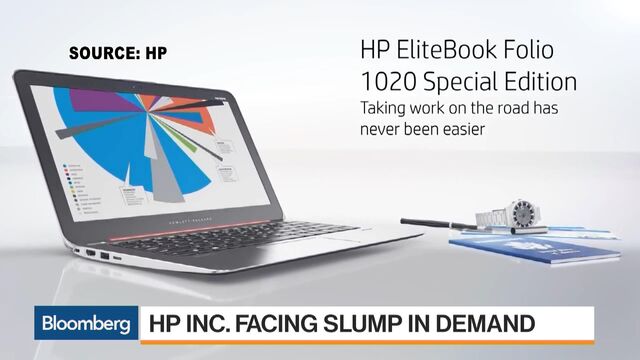 HP Inc., which sells personal computers and printers, forecast fiscal fourth-quarter profit that may fall short of analysts' estimates, hurt by slumping demand for its products. The shares fell as much as 5.8 percent in extended trading after the announcement.
Key Points
Profit from continuing operations, excluding some items, will be 34 cents to 37 cents a share in the current quarter, HP said Wednesday in a statement. That would fall short of analysts' projections of 40 cents.
The company reported profit, before certain items, of 48 cents a share in the third quarter ended July 31, topping analysts' estimates of 45 cents, according to data compiled by Bloomberg.
Sales fell 3.8 percent to $11.9 billion, compared with estimates of $11.5 billion.
Big Picture
Chief Executive Officer Dion Weisler is investing in higher-end products to help bolster profitability as he navigates mature markets that aren't growing. Operating margin in the quarter widened to 9.4 percent from 8.1 percent a year earlier. The company split last year from Hewlett Packard Enterprise, which focuses on software and hardware for corporate customers.
CEO Interview
"This was a quarter all about execution," Weisler said in an interview. "We know that we have more work to do, but the team is rising to that challenge nicely."
The Detail
Sales of personal systems, which includes the computer lines, of $7.5 billion was unchanged from a year earlier. That compares with a decline of 10 percent in the second quarter. Commercial sales fell 3 percent while the consumer business climbed 8 percent in the personal systems unit.

Printing revenue declined 14 percent to $4.4 billion, compared with a decline of 16 percent in the previous quarter. Consumer printing sales fared worse than the commercial business.
HP forecast full-year profit excluding some items of $1.59 to $1.62 a share. Analysts estimated $1.62.
The stock, which has gained 22 percent so far this year, earlier dropped 1.2 percent to $14.40 at the close in New York.

Brexit is a potential concern for the company, Chief Financial Officer Cathy Lesjak said on a call with analysts. The effect of the U.K.'s withdrawal from the European Union has been limited for HP, but there could be challenges in the future, she said.
Restructuring activities are on track for the fiscal year, including about 3,000 job eliminations, she said. The company is likely to have cost savings beyond current efforts, Lesjak said, without specifying.
Street Takeaways
"Dion is definitely sort of playing the long game -- in terms of trying to position the company for better profits longer-term," said Shannon Cross, an analyst with Cross Research Group. "The printing industry in general is not in particularly good shape."
"The problem is the beat didn't flow through to upside to the full-year guidance," Cross said. "It's going to take a little while for investors to understand all the underlying dynamics -- and to feel comfortable about the stability of the core model."
Before it's here, it's on the Bloomberg Terminal.
LEARN MORE