markets
How Wall Street Is Preparing for Yellen's Jackson Hole Speech
How positioning is changing ahead of the event.
By , , and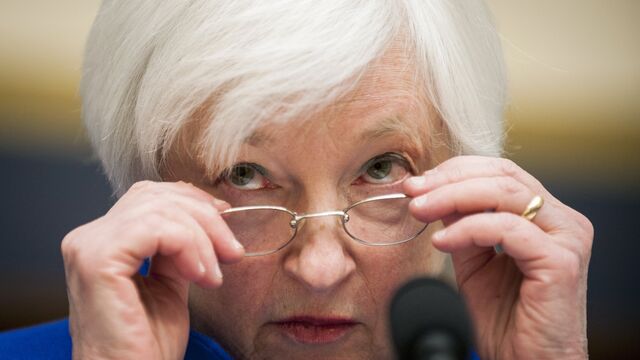 Markets have been eerily quiet ahead of the Federal Reserve Chair Janet Yellen's remarks at the Jackson Hole Symposium on Friday morning, which have the potential to upset the calm that's prevailed throughout the month. Broadly, analysts expect Yellen's remarks to be on the hawkish side, though many caution that there might not be a bevy of actionable information on the short-term outlook for rates given the speech's title, "The Federal Reserve's Monetary Policy Toolkit."
Here's what Wall Street firms are looking for from Yellen and how strategists are altering their positions heading into the event.
Scotiabank
"USD risk is elevated as we head into Friday's Jackson Hole speech from Fed Chair Yellen, with a low bar to a bullish surprise as we consider the market's relatively muted expectations for Fed normalization," writes Chief FX Strategist Shaun Osborne. "The softening in expectations appears somewhat excessive as we consider the relatively robust growth outlook anticipated through the second half of 2016 with an Atlanta Fed GDPNow 'nowcast' forecasting model looking to a 3.6 percent pace of growth for Q3."
Jefferies
"Yellen will be optimistic about the economy and what the Fed has accomplished toward achieving the dual mandate goals of full employment and stable inflation," writes Chief Financial Economist Ward McCarthy, noting that this would place her in the same camp as New York Fed President William Dudley and Fed Vice-Chair Stanley Fischer. "In acknowledging the limitations of monetary policy, Yellen will also argue for the need for fiscal policy to play a more significant role as a complementary tool to monetary policy."
JPMorgan
From Chief U.S. Economist Michael Feroli:
We suspect the conclusion of the study released last week – asset purchases and forward guidance should be able to compensate for the FOMC's likely limited scope to cut short-term interest rates in the future – is indicative of the sense of the Committee. We expect there will be strong resistance to negative interest rates, though they will not be completely ruled out. Would such a speech be seen as dovish or hawkish? The Fed can definitely tighten, and probably ease. This asymmetry lends itself to the dovish conclusion that risk management considerations counsel caution when tightening at very low interest rates. 
Credit Suisse
"The symposium's rather apt topic, 'Designing Resilient Monetary Policy Frameworks for the Future,' could shed light on the Fed's concern regarding policy efficacy as central banks globally come to grips with potential limits to monetary policy—most recently exemplified in last week's essay by SF Fed's Williams in which he posits alternatives to the current 2 percent inflation target," writes a team led by Praveen Korapaty. "We think her characterization of potential options could provide useful insight into the leading proposals and, like past academic discussions, give markets cause to react." The analysts observe that discussions on this topic have typically induced either a steepening or flattening of the Treasury yield curve by roughly 15 to 20 basis points, and unwound a 10s30s flattener position ahead of the speech.
Barclays
"We believe Chair Yellen may use the opportunity to signal the FOMC's growing confidence in the outlook for activity and inflation," writes Nikolaos Sgouropoulos, FX strategist. "Given the low market expectations for a September or December Fed rate hike, a re-pricing at the front end of the rates curve should drive a near-term rebound in the USD."
TD Securities
"A nuanced view from Chair Yellen at Jackson Hole can prevent a significant repricing in rates," writes a team led by Millan Mulraine, deputy head of U.S. research and strategy. "Our base line view sees disappointment on both sides of the debate." However, the team also suggests that this view could potentially signal "that Yellen may have shifted into the one-hike [for 2016] camp."
Bank of America Merrill Lynch
"We think it will be clear from the conference that the Fed will only be able to execute a very shallow hiking cycle," writes Michelle Meyer, head of U.S. economics. Meyer thinks that clues on upcoming Fed action (or a lack thereof) "will be difficult to find."
BNP Paribas
Markets are failing to adjust prices ahead of Yellen's speech Friday, which means her remarks are "becoming an increasingly binary event" — one with major implications for the U.S. dollar in the short-term. Strategists at the bank are positioned for upside in the U.S. dollar into the speech, suggesting Yellen may give an indication that the central bank is considering a rate hike in September.
Citigroup
"Markets should look out for three themes to gauge [Yellen's] degree of dovishness: (1) the level of r*; (2) the costs and benefits of "low-for-longer" interest rates; and (3) how the global and domestic backdrops stack up against the Fed's tightening rubric," writes a team led by Dana Peterson. "Unless Yellen turns hawkish at Jackson Hole, the dovish track record of the FOMC causes us to expect a December interest rate hike." However, the analysts don't expect the Fed Chair to provide a "hard signal" on the timing of the next rate hike.
PNC Financial Services Group
"Yellen is unlikely to use her Jackson Hole talk to signal an increase in the federal funds rate at the FOMC's next meeting," writes Chief Economist Stuart Hoffman and Deputy Chief Economist Guy Faucher. "She is looking to create a consensus, and does not want to get too far out in front of other FOMC members." The duo warns that the Fed Chair likely won't use words that give the impression further tightening is imminent, and that the only calendar-based guidance that might be offered is that a rate hike is likely to occur before the year is out.
Alliance Bernstein
The "biggest obstacle to a clear path forward is the hesitancy of monetary-policy makers," writes Economist Joseph Carson, saying that the Chair's speech is likely to "tip the scales — one way or the other" on whether hike is coming soon.
Oxford Economics
"We expect her comments to focus mostly on how the policy framework or tools may have to eventually evolve in a low interest rate environment," writes Kathleen Bostjancic, director of U.S. macro investor services. "Given the fed funds futures market is currently pricing in just a 24 percent probability of rate hike in September, we would not be surprised if Yellen construes her comments to lift those odds."
Before it's here, it's on the Bloomberg Terminal.
LEARN MORE