Housing Boom to Keep Going Even If Rates Rise, Hovnanian Says
by
Pent-up demand by a growing U.S. population driving the market

Homebuilder CEO says housing recovery still in early stages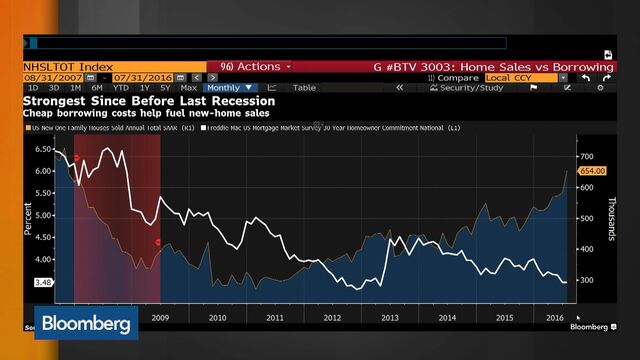 Housing demand will keep riding high even if prices continue to rise and mortgage rates go up, the chief executive of homebuilder Hovnanian Enterprises Inc. said.
"Actually and amazingly, there were more homes sold in 1981 when mortgage rates were 17 percent," Ara Hovnanian said in an interview on Bloomberg Television. "The reality is there's a lot of pent-up demand, demographics are building, the population is growing and they need shelter."
Buyer competition is pushing up prices for a tight supply of previously owned houses, helping to drive demand for newly built properties. Sales of new U.S. homes unexpectedly jumped 12.4 percent in July from the previous month to a nine-year high, the Commerce Department reported on Tuesday.
The housing recovery is in its "third or fourth inning," with room for more rental and for-sale homes to be built, Hovnanian said.
Mortgage rates that are close to all-time lows "allow everyone to buy a bigger house than they would otherwise be able to buy," he said. "If rates go up, they may have to settle for a smaller house, but they will need shelter."
Before it's here, it's on the Bloomberg Terminal.
LEARN MORE