Hong Kong's Equity Bull Run Tires as Fed, China Concerns Return
by and
Valuations are at five-year highs, Fed hikes are back on table

Shares are due a correction after euphoria reached, Bocom says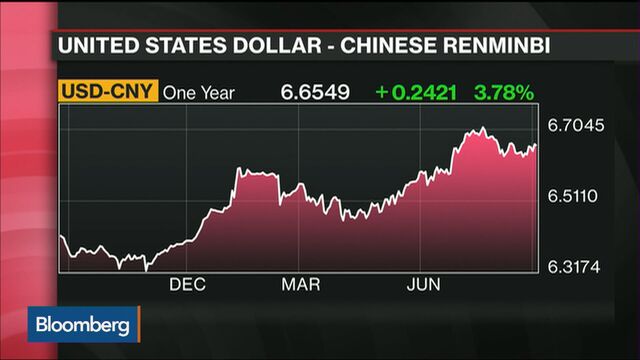 The factors that fueled this year's bull run in Hong Kong stocks are turning brittle.
Valuations that were among the world's lowest are now at five-year highs. An improving U.S. economy is scotching Brexit-fueled optimism that higher borrowing costs were a remote prospect. Speculation China's economy is stabilized has been dashed by July data showing faltering growth. At the same time, technical indicators are signaling that the Hang Seng Index's 25 percent ascent since February's low was too quick.
For BNP Paribas SA, Hong Kong remains caught in the "pincer" between China's structural slowdown and the return of U.S. borrowing costs to more normal levels -- effects the city can't avoid due to its reliance on Chinese spending and a currency peg to the greenback. While Value Investment Principals Ltd. says Hong Kong stock valuations remain cheaper than global peers, Bocom International Holdings Co. says shares are due a correction.
"There is reason to be cautious as the market has been running ahead of itself," said Hao Hong, chief strategist at Bocom International in Hong Kong. "The sentiment is euphoric, and the market has gotten complacent."

The Hang Seng Index is trading near a nine-month high as it recovers from a bear market induced by turbulence in China's financial markets. The gauge is valued at 11.9 times reported earnings, up from a four-year low of 9 in February. Its relative-strength index rose last week to a level that signals to some traders gains are overdone, while more of the measure's 50 members are above their 200-day moving averages than at any time since May 2015.
The Hong Kong stock gauge was little changed on Thursday.
Hong Kong's vulnerability both to China's economy and global central bank stimulus has helped make swings between despair and optimism hallmarks of the city's $4.1 trillion equity market. While the S&P 500 Index hasn't dropped more than 20 percent from a recent peak in at least six years, the Hang Seng Index has suffered two plunges in excess of 30 percent before staging some of the world's sharpest rallies.

Expectations for higher U.S. borrowing costs are growing ahead of a speech by Federal Reserve Chair Janet Yellen on Friday. Fed funds futures ended Tuesday showing a 54 percent chance of a U.S. rate increase in December. In the wake of Britain's June vote to leave the European Union, odds were less than even for any meeting through the end of 2017.
A move toward historic levels would darken the outlook for Hong Kong's house prices. Real estate companies led by New World Development Co. account for half of the Hang Seng Index's 10 best performers since Feb. 12, when the city's shares ended a nine-month bear market.
Revenue Outlook
Worsening Chinese economic data also threaten earnings for the city's shares. Factory output, retail sales and investment all slowed in July, while the broadest measure of new credit rose the least in two years. China, Hong Kong's biggest trading partner, accounted for an average 62 percent of revenue for companies on the Hang Seng Index, according to data compiled by Bloomberg.
"Economic fundamentals have not changed," said Kevin Lai, Hong Kong-based chief economist for Asia ex-Japan at Daiwa. "We are in a brief period of what people call risk-on, when the market loves to take risks, loves to chase yields. But fundamentally, data coming from China for July were miserable."
Even after the rally, the city's stocks are inexpensive relative to global peers. The Hang Seng Index is 45 percent cheaper than the MSCI All-Country World Index's 21.5 times reported earnings. The Hong Kong gauge is still 20 percent below last year's April high.
Catch-up Rally
"Valuation for Hong Kong equities is still very reasonable if not compelling, so the fundamental support is there," said Sandy Mehta, chief executive officer of Hong Kong-based advisory firm Value Investment Principals. "It will be more of a catch-up rally from a position of excessive pessimism, rather than a new bull market."
Shares will struggle to extend their gains for long amid a weak domestic economy and uncertainty over U.S. interest rates, according to Ronald Wan, chief executive of Partners Capital International Ltd. in Hong Kong.
Retail sales in the city have declined for 16 straight months as a weakening yuan and an anti-graft campaign drew fewer mainland Chinese tourists to the city's shops. BNP Paribas projects the city's joblessness to grow while the economy will flirt with deflation next year, according to a note dated Wednesday.
"I don't think things can be too impressive in the medium term," Wan said.
Before it's here, it's on the Bloomberg Terminal.
LEARN MORE