Gordhan Arrest Reports Increase South Africa Downgrade Risk
by
Rating companies warned against political risk in June

Creates policy uncertainty, says Citadel's George Herman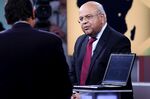 Chances that South Africa's debt will be cut to junk have increased as the political risk that rating companies have raised as concern rose amid renewed speculation Finance Minister Pravin Gordhan could be arrested and charged.
Gordhan, 67, said in a statement on Wednesday his attorneys received a letter from the Hawks, a special police unit, requesting that he present himself to the Hawks' office on Thursday. He will not comply with the request and his lawyers advised him alleged charges against him are unfounded, Gordhan said. The Sunday Times newspaper wrote in May the finance minister may face dismissal and arrest on espionage charges for setting up a unit in the South African Revenue Service to spy on politicians including President Jacob Zuma, 74, when he headed the tax agency between 1999 and 2009.
"Political risks were one of the factors that they cited. undoubtedly that factor is flashing red vehemently, so surely it heightens the risk of a downgrade?" George Herman, head of South Africa investment at Citadel Investment Services in Cape Town, said by phone on Wednesday. "Unfortunately if you make front page news with political shenanigans like this, that creates policy uncertainty."
Fitch Ratings Ltd. and S&P Global Ratings affirmed South Africa's long-term foreign currency rating at BBB-, the lowest investment grade, in June and said the government must take decisive measures to bolster growth, quell policy uncertainty and end political turmoil to avoid a future downgrade. There is a risk that the ruling African National Congress could turn to a more populist approach to address rising voter dissatisfaction after its worst election performance since Nelson Mandela led the party to power in 1994, Fitch said after the Aug. 3 local government vote.
Political Influence
"It certainly is an increase in political risk," Peter Kent, a portfolio manager at Investec Asset Management in Cape Town, said in an e-mailed response to questions. "Whilst the investigation is not new, its timing around the local elections lends some credibility to the idea of political influence -- dashing the belief that the issue was no longer a serious risk."
The rand fell to the lowest in almost four weeks against the dollar on Tuesday and was 1.4 percent weaker at 14.2038 by 6:01 p.m. in Johannesburg on Wednesday. The cost of insuring the government's debt against non-payment for five years using credit-default swaps rose 17 basis points since Monday to the highest in almost three weeks.

Gordhan was reappointed as finance minister in December four days after Zuma roiled markets by firing Nhlanhla Nene and replacing him with David van Rooyen, a little-known lawmaker. He is reprising a role he held from 2009 to 2014.
The minister is leading the government's efforts to avoid a credit-rating downgrade to junk and has met with business and labor leaders and investors to seek measures to boost confidence in an economy that the central bank projects won't expand this year. S&P is scheduled to announce its next assessment of South Africa's debt on Dec. 2. Fitch and Moody's Investors Service, which rates the nation at two levels above junk, do not publish their review dates on a public calendar.
"Leadership changes that may result in a shift or slowdown from the current fiscal consolidation path and stalling economic reform momentum may be detrimental to economic growth and investor confidence," S&P sovereign analyst Gardner Rusike said in an e-mailed response to questions. "Increasing political tensions could also weigh on investor confidence and weaken the social contract with business and labor."
Fitch spokesman Peter Fitzpatrick wouldn't immediately comment when contacted by e-mail. Moody's communication department referred back to the company's May credit opinion on South Africa when contacted for comment.
"The chance of a ratings downgrade, even before the scheduled one, is much more likely," Viv Govender, a senior analyst at Lehumo Capital in Johannesburg, said by phone. "What he has done is postpone it to show what we can do. With that taken away, a downgrade would happen a lot sooner."
Before it's here, it's on the Bloomberg Terminal.
LEARN MORE