Glencore Widens Debt Plan to Weather Rout After Worst Profit
by and
Trader and miner wants to cut debt to as low as $16.5 billion

Stock price has doubled this year after 70% slump last year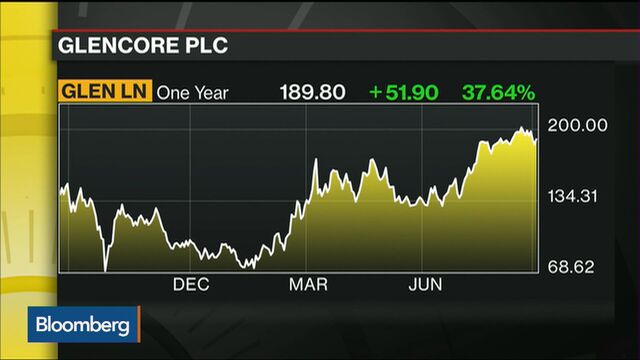 Glencore Plc, the miner and commodities trader headed by billionaire Ivan Glasenberg, sharpened its plan to cut debt after reporting its worst half-yearly profit since listing in London five years ago.
The company widened its debt-reduction target by $500 million and plans to trim net borrowings to as low as $16.5 billion by year-end, it said in a statement Wednesday. The shares dropped as much as 5.2 percent as lower raw-material prices cut first-half profit by 66 percent. Still, a recent rebound in coal and zinc will help earnings going forward and underpins a likely return to restarting dividends.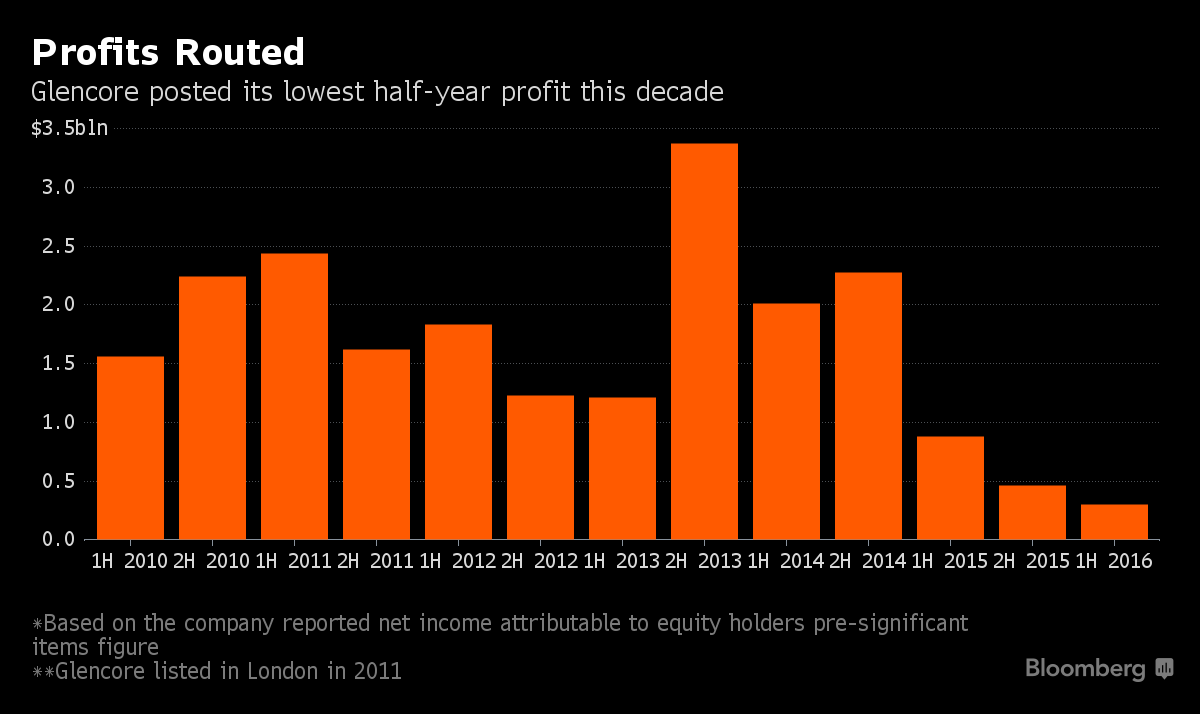 Last year's collapse in commodities and Glencore shares forced the firm to roll out a rescue strategy that included scrapping its dividend, selling $2.5 billion of stock, disposing of assets and slashing spending. The shares have doubled this year as Glasenberg checked off targets on the plan designed to almost halve borrowings. The company made further progress today by announcing a $670 million deal to sell future output from an Australian gold and copper mine.
"The mining sector is still in divestment mode, it's still trying to get balance sheets in order," Colin Hamilton, an analyst with Macquarie Group Ltd. in London, said in an interview Wednesday with Bloomberg Television. "They are doing much more work to repair their balance sheet, I would say, than many of their peers."
Dividend Return?
It's "pretty likely" Glencore will pay a full-year dividend and the board will decide on a payout ahead of results in March, Chief Financial Officer Steve Kalmin said on a conference call. Glencore, based in Baar, Switzerland, last paid an interim dividend of 6 cents a share last August.
A five-year rout in commodity prices has pummeled mining profits. Glencore's net income excluding some items in the six months to June 30 dropped to $300 million from a year earlier. That compares with a $318 million average estimate of 16 analysts compiled by Vuma Consensus and posted to the mining company's website.
Glencore fell 5.1 percent to 180.10 pence by 9:44 a.m. in London. The company, which has a market value of about $34.5 billion, is still this year's third-best performer in the U.K.'s benchmark stock index.
The miner reported adjusted earnings before interest, tax, depreciation and amortization of $4 billion, down 13 percent from a year earlier. Capital spending slid 51 percent to $1.5 billion. Net debt declined to $23.6 billion.
The company's plan to trim borrowings has been helped by completing the sale of almost 50 percent of its agriculture business for just over $3.1 billion in the first half. Two copper mines, an Australian coal rail unit and a Kazakhstan gold mine have also been put up for sale.

Glencore agreed a A$880 million deal to sell future output from its Ernest Henry mine in Australia to Evolution Mining Ltd., the country's second-largest gold producer, it said in a separate statement today. Evolution will receive the equivalent of 100 percent of future gold output, 30 percent of copper and silver production and a 30 percent interest in the operation in Queensland.
The commodity slump means Glencore now generates most of its cash from trading as its mines and smelters around the world struggle to make a profit. Last year, the company reported a $292 million loss at its mining division.
Adjusted first-half earnings before interest and tax from the trading unit totaled $1.22 billion. Glencore forecasts full-year adjusted Ebit from the division at $2.4 billion to $2.7 billion this year.
Its three major London-listed peers, BHP Billiton Ltd., Rio Tinto Group and Anglo American Plc, have reported earnings in the past month that reflected the dire state of the mining industry. Profit was the worst ever for BHP, the biggest miner, and the poorest for Rio in more than a decade.

While average first-half commodity prices were lower than a year earlier, miners have benefited from a rebound following production cuts. BHP Chief Executive Officer Andrew Mackenzie said last week that it's possible the freefall in commodity prices may be over. Glasenberg said in March he thought commodity prices had bottomed.
"After a difficult start to the year, the more constructive tone of markets in recent months has helped support the pricing of many of our key commodities," Glasenberg said in the statement. "While we are highly cash generative at current spot prices, we remain mindful that underlying markets continue to be volatile."
Peter Grauer, the chairman of Bloomberg LP, is a senior independent non-executive director at Glencore.
Before it's here, it's on the Bloomberg Terminal.
LEARN MORE